Trump, With Oath, in Violation of D.C. Hotel Lease, Group Says
By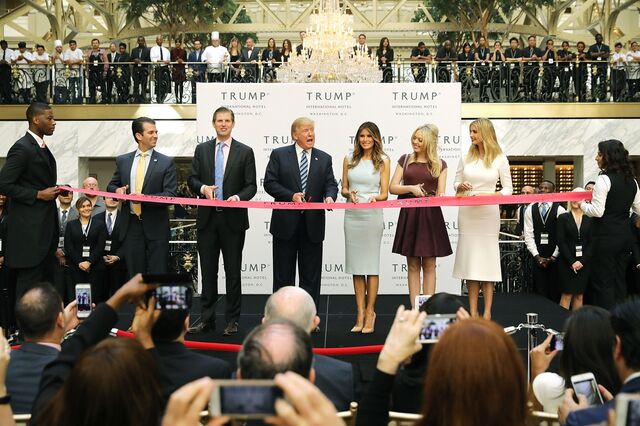 Donald Trump, in being inaugurated as the 45th U.S. president, is violating terms of the lease for the Trump International Hotel Washington D.C. that bar elected officials from benefiting from the agreement, a public-interest group said Friday.
The General Services Administration should "immediately initiate the process for establishing" that Trump's company "is in violation of the lease's conflict-of-interest provision," Citizens for Responsibility and Ethics in Washington wrote in a letter to GSA Administrator Denise Turner Roth. The 263-room hotel, which opened last year, is near the White House in the Old Post Office Building, leased from the GSA.
"The lease bans elected officials from benefiting to avoid conflicts of interest with their duties," Noah Bookbinder, executive director of the Washington-based group, said in a statement. "We know Trump likes to renegotiate contracts for better deals. If that happened here, it will be the president negotiating against the government he leads."
Trump controls the Washington hotel through his 77 percent ownership of a limited liability company, Trump Old Post Office LLC, and his eldest three children own about 7.4 percent each. Ethics experts have said that Trump's lease with the GSA creates a conflict of interest, and Democratic lawmakers have called on Trump to divest. He has refused to do so, handing over management of his company to sons Donald Jr. and Eric.
The GSA has said it's reviewing the Washington hotel lease. Trump's lawyers have said he isn't in violation of the lease because he wasn't an elected official when he signed it.