Trump Picks LaFleur as Chairman of U.S. Energy Regulator, Sources Say
By and
LaFleur said chosen for Federal Energy Regulatory Commission

Decision may be announced during Trump's first days in office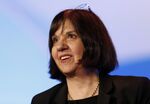 President-elect Donald Trump plans to name Cheryl LaFleur chairman of the Federal Energy Regulatory Commission, an agency charged with overseeing the nation's power grid and deciding on multibillion-dollar energy projects, two people familiar with the situation said.
The decision to name LaFleur may be announced during Trump's first days in office, said the people, who asked not to be identified because the information isn't public. LaFleur has been a member of the commission since 2010 when she was first nominated by President Barack Obama.
LaFleur's appointment could signal the end of current chairman Norman Bay's efforts to more heavily regulate power and gas trading in the U.S. Under his leadership, the commission has gone after energy giants including BP Plc and Total SA for alleged market manipulation. The change also comes as the agency is facing increasing scrutiny over its approvals of natural gas pipelines being built to carry supplies from booming shale formations to market.
Steven Wellner, legal advisor for LaFleur, declined to comment. Trump's office didn't immediately respond to e-mailed requests for comment. It wasn't immediately clear whether LaFleur would serve as acting or permanent chairman.
LaFleur has served as both acting chairman and chairman of the commission in the past. Grid security, regional transmission line planning and a "clean and diverse" power supply are listed among her priorities on the agency's website. Prior to joining the commission, she was executive vice president and acting chief executive officer at National Grid USA.
'Significant Concerns'
"From a consumer protection standpoint we have significant concerns," Tyson Slocum, Washington-based director of energy at consumer advocacy group Public Citizen, said by phone Thursday. "She's definitely on the side of the generators and the transmission owners instead of consumers."
Before becoming a member of the commission in 2014, Bay was the director of the commission's Office of Enforcement. During that time, he created a division that used algorithms to screen power and gas markets daily to spot potential manipulation.
For their part, BP and Total have denied the commission's accusations of market manipulation.
Before it's here, it's on the Bloomberg Terminal.
LEARN MORE