Mnuchin Grapples With the Strong-Dollar Dilemma Left by Rubin
By
Predecessors tried to move away from short-term strong dollar

Rubin championed the policy at a time of record weakness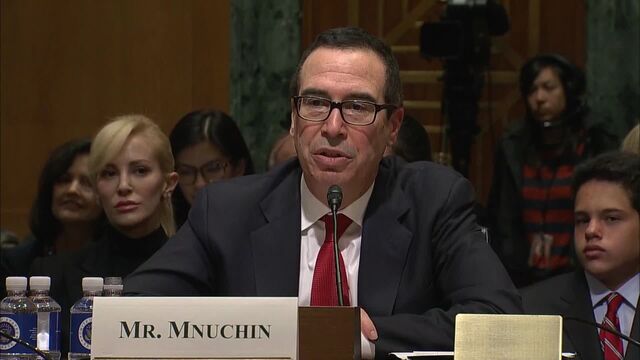 U.S. Treasury Secretary-nominee Steven Mnuchin has ventured down a well-trodden path in endorsing a strong dollar while actually preferring a weaker currency for now.
American policy makers need to maintain confidence in the dollar because of large and persistent savings shortfalls relative to spending -- though a super-strong dollar can hammer U.S. exporters and contribute to deflationary pressures. On the flip side, endorsing a weak-currency policy could spook the investors needed to fill the savings gap.

At his confirmation hearing Thursday, Mnuchin tried to thread the needle.
"The long-term strength -- over long periods of time -- is important," Mnuchin said, backing the basic framework of a strong-dollar policy expressed in 1995 by then-Treasury Secretary Robert Rubin. "We have the most attractive investment environment in the world."
Mnuchin also indicated there may be times when the view is the dollar has risen too far, such as now. "The currency is very, very strong," he said. "We just have to protect our U.S. companies so they're not forced abroad."
After incoming President Donald Trump showed in the past week that he's prepared to talk about the dollar, the implication for currency traders is they may need to prepare for volatility spurred by officials' comments. With the dollar still comfortably below the peaks reached in past cycles of strength, there could be plenty of cause for them to opine.

The dilemma for Mnuchin is that the dollar's trajectory has been set in part by anticipation of Trump's fiscal stimulus, which would boost the case for faster Federal Reserve interest-rate hikes -- and thus the dollar's appeal.
"As long as Trump's policies remain on track and the U.S. economy continues to perform well, reflationary impulses should push the dollar higher despite rhetoric from the administration," Morgan Stanley currency strategists led by London-based Hans Redeker wrote in a note. Redeker's team sees the dollar rising to 125 yen and 0.97 per euro, up about 9 percent and 10 percent from levels in Tokyo trading Friday.
Read more: Why the strong dollar policy is an article of faith - a QuickTake
Past Treasury chiefs have run into the same challenge of trying to present a strong-dollar policy with nuance, and roiling the market on occasion.
President George W. Bush's first secretary, Paul H. O'Neill, learned the risks in talking about the issue after just weeks on the job, when he told the Frankfurter Allgemeine Zeitung newspaper in 2001 that "we don't follow, as is often said, a policy of a strong dollar." 
Frustrating Bequest
O'Neill was attempting to underscore that the policy was to pursue a strong economy, which would then find reflection in a strong currency. The dollar tumbled as much as 1 percent the day the remarks were published. The former business executive was known privately to express blunt frustration with the confines of the policy bequeathed by Rubin.
O'Neill's successor, John Snow, sought to reframe the rhetoric by focusing on the definition. A "strong" dollar is one that serves as a store of value, is hard to counterfeit and is accepted as a means of exchange, he explained in May 2003. Its value "reflects the fundamentals of demand and supply for currencies," he said. The dollar fell in response, a not-unwelcome result for an administration struggling to boost growth.
Rubin, the former Goldman Sachs Group Inc. chief executive who ran Treasury from 1995 to 1999, championed the strong-dollar mantra at a time when it was plunging. Trade tensions with Japan had focused investors on a deteriorating U.S. trade deficit, and the dollar in 1995 plunged to a postwar low against the yen.
Rubin's Tweak
By 1997, things had turned around and investor focus was on a booming U.S. economy. The reversal became so strong that Rubin -- whom Mnuchin on Thursday mentioned as a fellow former Goldman trader -- himself tweaked his language on the currency.
In an addendum to his usual refrain, Rubin highlighted in February 1997 that the dollar had been strong "for some time now," a shift that observers took as a signal that then-President Bill Clinton's administration didn't want to see further appreciation.
While some people this week called Trump's remarks on the dollar "unprecedented," in fact Bush had a go at it more than a decade and a half ago. He said in an interview with an Italian newspaper that a strong dollar had pluses and minuses. Bush also said in July 2001 that markets should set the dollar's value.
Trump's language was more colorful. He said in an interview with the Wall Street Journal last week that a strong dollar was "killing" the competitiveness of U.S. companies, in criticizing a Chinese exchange rate he viewed as too weak.
Another potential wild card for markets is the stance of the Fed, where some officials have noted the negative growth and inflation implications of a strengthening dollar.
Stephen Jen, a longtime currency analyst who's now the London-based chief executive of hedge fund Eurizon SLJ Capital Ltd. put it this way for Trump's team: "an explicit strong dollar policy would make the trade negotiations awkward and a weak dollar policy would be difficult to explain."
Before it's here, it's on the Bloomberg Terminal.
LEARN MORE