Education Pick DeVos Reveals Assets of at Least $580 Million
By
School-choice advocate agrees to divest from 102 entities

DeVos is daughter-in-law of Amway co-founder Richard DeVos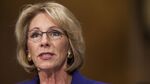 Betsy DeVos disclosed that she and her husband own assets worth at least $580 million, and she agreed to divest from 102 entities within 90 days of her confirmation as secretary of education, according to documents released by the federal Office of Government Ethics.
DeVos, 59, tapped by President- Donald Trump to lead the U.S. Department of Education, is a businesswoman and education activist who has advocated for school choice and voucher programs. Her husband, Dick DeVos, is the son of billionaire Richard DeVos, the co-founder of Amway Corp. Her brother, Erik Prince, is the founder of Blackwater USA, a government-services and security company.
The federal forms, which report values in ranges, almost certainly understate the value of assets held by Betsy and Dick DeVos -- several values are listed simply as "over $1,000,000." While nominees value their holdings in ranges that top out at $50 million, the highest range for an asset owned by a spouse is $1 million.
DeVos and her husband are probably worth roughly $890 million after accounting for stakes that her father-in-law controls in the Orlando Magic of the National Basketball Association and in Alticor Inc., Amway's parent company, according to the Bloomberg Billionaires Index. In addition to having married into a billionaire family, she probably received more than $250 million from the sale of her father's manufacturing business, Prince Corp., in 1996.
Loan Interest
Among the assets listed in her disclosure is an interest in a loan to Performant Financial Corp., a company that gets most of its revenue from the U.S. government for collecting defaulted student loan debt, according to regulatory filings. A DeVos family investment company, RDV Corp., owns a portion of a $148 million loan made to Performant in 2012, according to federal, state and exchange filings. The DeVos family's portion of the loan is probably less than $12 million, based on a Fitch Ratings report that says the $400 million family fund that holds the loan can have no more than 3 percent of assets in any single company.
Performant receives a commission from the Education Department based on the dollar volume of bad student loans it collects on. The company had total revenue of $148.7 million in its most recently reported four quarters, ending in October. Performant was unexpectedly left out of a new DOE contract in December, sending shares down 43 percent in one day.
DeVos will divest from the Performant stake she owns, according to her filings and signed ethics agreement. Greg McNeilly, a spokesman for Betsy DeVos, said her husband will divest as well. That won't obligate other family members or RDV itself to divest from the Performant loan, McNeilly said.
"With this ethics agreement she is free and clear of all ethical conflicts and has no entanglements," he said. "She is now 100 percent focused on helping kids."
DeVos will retain holdings in eight firms, according to her signed ethics agreement, which was approved by the OGE. 
"Because I will continue to have a financial interest in each of these entities, I will not participate personally and substantially in any particular matter that to my knowledge has a direct and predictable effect on the financial interests of any of these entities," DeVos wrote, adding that there could be exceptions if she receives a waiver in accordance with federal law.
— With assistance by Brandon Kochkodin, and John Voskuhl
Before it's here, it's on the Bloomberg Terminal.
LEARN MORE