This Ex-Angry Birds Team Wants to Help Kids Learn Particle Physics
Rovio veterans bet they can make a learning game kids want to play.
By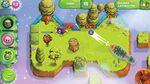 The problem with most educational video games is that fun takes a back seat to education. Games such as Math Blaster and Number Munchers are little more than glorified quizzes, and it's no wonder kids would rather play Candy Crush or Angry Birds, says Lauri Järvilehto. Ideally, he says, the educational component should be "invisible"—kids should learn without realizing it.
Järvilehto is co-founder and chief executive officer of Lightneer, a mobile-gaming startup betting it's developed the right spoonful of sugar. Like much of his team, he comes from Rovio Entertainment, the Finnish maker of Angry Birds. After Rovio dissolved its educational-games division in 2015, Järvilehto, then a consultant, and Lauri Konttori, the Angry Birds maker's creative director, left to start their venture with backing from London startup accelerator Founders Factory and Rovio's co-founder Niklas Hed and then-marketing chief Peter Vesterbacka.
Lightneer decided to skip the three R's. The company's first game, Big Bang Legends, attempts to familiarize children as young as 4 years old with particle physics by building the concepts directly into its structure. Players fire a high-energy particle beam to capture quarks, then assemble them into protons to form atoms of various elements. Each of the first 10 elements of the periodic table, from hydrogen to neon, is represented by a different animated character with a distinct personality whom players can use to battle monsters made of antimatter. There are no quizzes here.
Parents shouldn't expect their kindergartner to finish Big Bang Legends with the equivalent of a physics degree, but it will make key terms more familiar, says Deborah Quazzo, co-founder and managing director of GSV Acceleration, the venture fund that led a €2.8 million ($3 million) funding round for Lightneer last year. "Something like this could be quite useful in building confidence, so that when children get to secondary school and they have to learn the elements for physics and chemistry, they aren't intimidated," says Keith Taber, a professor of science education at the University of Cambridge.
The subatomic focus came from a suggestion by Vesterbacka, who, along with investing, has joined Lightneer as a marketing adviser. While at Rovio, he negotiated education-themed Angry Birds licensing deals with NASA and CERN, the Geneva nuclear research lab that runs the Large Hadron Collider, the world's most powerful particle accelerator. CERN scientists agreed to advise Lightneer.
After an early test of Big Bang Legends in a classroom of 10-year-olds, Järvilehto's heart sank when one girl said she "didn't learn anything" playing the game. But when he asked the 25 students how many quarks are in a proton, every kid raised a hand. "It's then I realized that this idea of invisible learning was actually going to work," he says.
Eric Klopfer, a professor who heads the learning-game-focused Education Arcade at MIT, says most kids can't really learn even basic science concepts by osmosis. "Learning is a conscious process, and the game or surrounding experience needs to make it so," he says. Still, there's research to back Järvilehto. In a 2011 study, academics from Sheffield Hallam University in the U.K. found that building math concepts directly into a game about fighting zombies led kids to play longer, and do better on a subsequent math test, than a version of the game that only introduced the concepts in periodic quizzes.
Big Bang Legends made its debut in the Finnish iOS App Store in December, where it quickly topped the educational category. Lightneer says it'll start putting the free game in more countries in the spring. Its revenue comes from in-app ads, mostly from other game makers. There's also an animated TV series in the works, and the element characters were designed with cuddly toy potential in mind.
If Big Bang Legends succeeds, Lightneer is planning games incorporating chemistry and biology. What's Järvilehto's definition of success? "We'd like to get this game into 100 million hands," he says. That would make Big Bang Legends second only to Minecraft in the world of educational games. It sounds less crazy, he says, when you consider that most Lightneer staffers have worked on more conventional games that racked up more than a billion downloads.
Lightneer's pitch to kids and their parents is a less tested marketing strategy than selling directly to schools, as many educational-game makers have done, says Lee Banville, editor of industry news site Games and Learning. "On the other hand," he notes, there's Minecraft, "which was never built to be a learning game."
The bottom line: Big Bang Legends will test whether Lightneer's mobile-game experts can make learning about quarks a little bit fun.
Before it's here, it's on the Bloomberg Terminal.
LEARN MORE