Schaeuble Warns U.K. Against Race to Bottom on Company Taxes
By , , and
Wouldn't befit a 'truly global economy,' German minister says

Europe's senior finance minister speaks in Bloomberg interview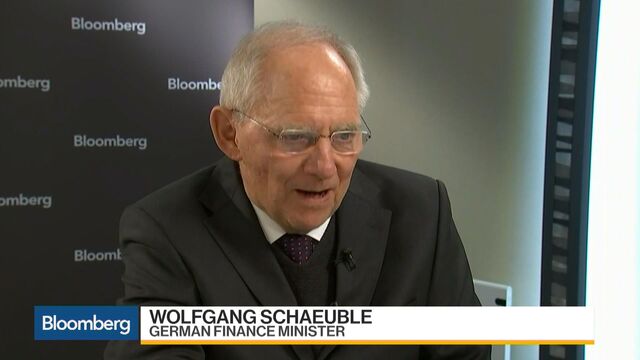 German Finance Minister Wolfgang Schaeuble cautioned the U.K. against a "race to the bottom" on corporate taxation as it leaves the European Union, saying international agreements to combat the practice will apply even after Brexit.
"A truly global economy must think of global governance," Schaeuble said in an interview with Bloomberg editor-in-chief John Micklethwait at the World Economic Forum in Davos, Switzerland, playing on a phrase used by Prime Minister Theresa May in her Brexit speech. "You can't race to the bottom on taxes as a truly global economy," he said. "Announcing a race to the bottom is not in the interest of the U.K. and they will not do it."

With U.K. banks' access to the EU market hanging in the balance, financial services will be "perhaps the most difficult issue" once the U.K. begins negotiating a new relationship with the EU, he said.
Schaeuble, 74, the elder statesman of European politics who helped negotiate German reunification after the fall of the Berlin Wall, said that he disagreed with President-elect Donald Trump's critical comments in a weekend newspaper interview. All the same, he said he was confident the U.S. will remain "a reliable partner of the western world" under the Trump administration -- and offered a piece of advice on how not to control migration.
Building Walls
"We will respect" the incoming U.S. president, "but we don't share his judgment of the German migration policy," Schaeuble said. "By the way, we have some experts in Germany on building a wall, and the experience is not very encouraging."
In a joint interview with the London Times and Germany's Bild newspaper, Trump criticized Chancellor Angela Merkel's migration policy as a "catastrophic mistake," predicted that other countries would follow the U.K. in leaving the EU and said NATO was "obsolete."
 "A strong America will stick to its obligations," said Schaeuble, "because otherwise a strong America would lose confidence -- and that would be a disaster for America and for the world."
Merkel's government needs to protect European interests and prevent other countries from leaving the EU, Schaeuble said, adding that "we have to hold continental Europe together."
As populists challenge Europe's status quo, Schaeuble expressed a clear preference for the outcome of France's presidential election, where National Front leader Marine Le Pen is running on an anti-EU platform. "We hope that Marine Le Pen will not win," he said.
— With assistance by Elena Gergen-Constantine
Before it's here, it's on the Bloomberg Terminal.
LEARN MORE