Mnuchin Says Long-Term Strength of U.S. Dollar Is Important
by and
Trump saying currency too high wasn't long-run policy, he says

Treasury secretary nominee speaks in his confirmation hearing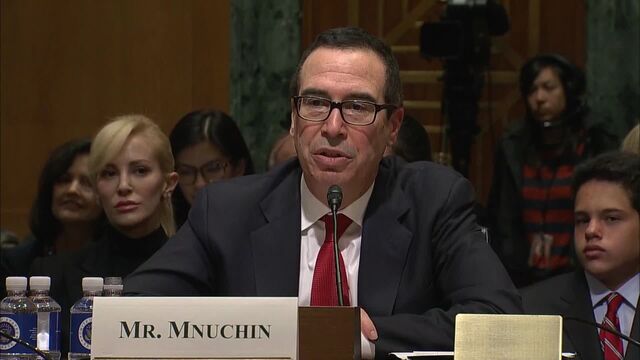 Treasury Secretary nominee Steven Mnuchin told lawmakers the long-term strength of the U.S. dollar is important and said President-elect Donald Trump's comments that the currency was too high weren't meant as a longer-run policy.
The dollar's "long-term strength -- over long periods of time -- is important," Mnuchin said in response to questions at his confirmation hearing Thursday before the Senate Finance Committee in Washington. "The U.S. currency has been the most attractive currency to be in for very, very long periods of time. I think that it's important and I think you see that now more than ever."
At the same time, he said the greenback is currently "very, very strong, and what you see is people from all over the world wanting to invest in the U.S. currency."
The Bloomberg Dollar Spot Index extended its gains on Thursday. The currency has appreciated more than 5 percent since Trump won the Nov. 8 election on expectations he will boost economic growth through tax cuts and spending increases.
Trump expressed concern about the dollar's recent appreciation in an interview with the Wall Street Journal this month, saying the currency was "too strong." That prompted speculation that his administration might reverse longstanding tradition in the U.S. to support a strong-dollar policy.

"When the president-elect made a comment on the U.S. currency, it wasn't meant to be a long-term comment," Mnuchin said. "It was meant to be that perhaps in the short term the strength in the currency, as a result of free markets and people wanting to invest here, may have had some negative impacts on our ability in trade."
Earlier in the hearing, Mnuchin departed from the text of his prepared testimony to say he "will enforce trade policies that keep our currency strong on the world exchanges and create and protect American jobs." The line in his written statement reads: "I will enforce these trade policies that keep and protect American jobs."
Lawrence Summers, who served as U.S. Treasury secretary under Bill Clinton and was President Barack Obama's chief economic adviser, said this month that Trump policies that help strengthen the dollar would hurt U.S. exporters and the people who work for them, working against Trump's goals.
Before it's here, it's on the Bloomberg Terminal.
LEARN MORE