Mnuchin Defends Banking Past, Advocates Strong U.S. Dollar
By and
Treasury secretary nominee says IRS must run more efficiently

He backs Volcker Rule, existing sanctions, cutting tax fraud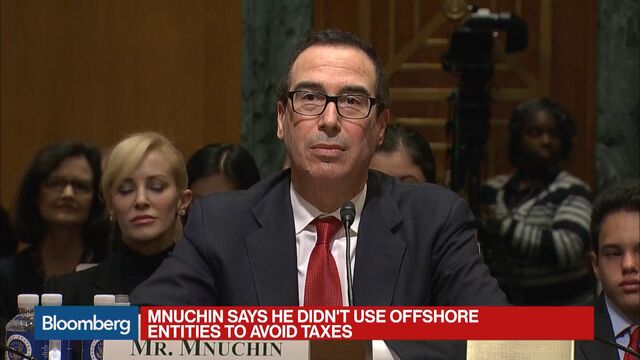 Treasury Secretary nominee Steven Mnuchin said a strong dollar is important over the long term, noting that it's currently "very, very strong," and that avoiding U.S. default on the debt would be a top priority if he's confirmed.
Mnuchin also defended his personal record as a founder of OneWest Bank amid the housing crisis, and pushed for tax reform as a key way to lift economic growth as promised by President-elect Donald Trump. Mnuchin's comments at his Senate confirmation hearing on Thursday in Washington come after Trump rattled currency markets by saying the dollar was "too strong" in an interview with the Wall Street Journal.
"When the president-elect made a comment on the U.S. currency, it wasn't meant to be a long-term comment," Mnuchin said. "It was meant to be that perhaps in the short term the strength in the currency, as a result of free markets and people wanting to invest here, may have had some negative impacts on our ability in trade."
The former Goldman Sachs Group Inc. executive-turned Hollywood movie financier fielded questions from both sides of the aisle about his business experience, including as head of hedge fund Dune Capital Management LP. While arguing that the U.S. needs to cut down on tax fraud and evasion, he asserted multiple times that his use of offshore accounts was to assist non-profits and pensions, and "in no way did I use them whatsoever to avoid any U.S. taxes."
Economic Chief
Mnuchin, noting he's been "one of the chief architects" of Trump's economic plans, said passing tax reform is a "major component" of the incoming administration's growth-boosting policy stance. Trump, among changes to the tax system, has proposed cutting the corporate tax rate to 15 percent from 35 percent and reducing the number of tax brackets to three from seven.
While defending his personal tax record, Mnuchin said he has concerns about the efficiency of the Internal Revenue Service, pointing to low staffing levels, "lack of first-rate technology," privacy and cyber-security risks and a need to improve customer service.
The Treasury nominee also took questions about the U.S. debt ceiling and how the incoming administration would handle negotiations with Congress on the issue.
"I would like us to raise the debt ceiling sooner rather than later," he said, noting that he wanted to avoid the brinkmanship that has characterized the talks with lawmakers in recent years. The U.S. has an obligation to honor its debts, he said.
U.S. debt levels at about $20 trillion are too high, he said. "The way to reduce the debt is by economic growth and that will create the opportunity for us to pay down the debt."
Iran, Russia
Mnuchin also was grilled on international sanctions, on which he said he would continue to enforce existing sanctions, including on Iran and Russia, and that he would encourage the president to use additional penalties where appropriate.
Mnuchin said he supports the Volcker Rule, which restricts deposit-taking banks from wagering their own money in markets, and said he will work to reduce overlapping bank regulation.
Aside from requests to comment on policy, Mnuchin's past remained a dominant theme of the confirmation hearing. While Democrats alone don't have enough votes to block his appointment, they want to underscore their opposition to Mnuchin's financial career, including allegations of unfair lending and foreclosure practices during his time at OneWest.
Job Saver
Mnuchin, 54, in his introductory remarks at the hearing, defended his record running the California lender, pushing back against Democrats who say OneWest profited from the 2008-2009 housing crash.
Mnuchin said he and a group of investors saved the failing financial institution, then named IndyMac, and salvaged thousands of jobs at the height of the crisis when most investors were "running for the hills." After renaming it OneWest, they modified 100,000 loans to delinquent borrowers, and fought the federal government to change policies to save homes -- but lost that battle.
Democrats used the hearing to point out that in his initial questionnaire filed to the Senate, Mnuchin failed to report about $100 million in real estate and overseas holdings, such as in the Cayman Islands. Mnuchin said he didn't list those on guidance from his lawyer, but quickly submitted the requested information.
Independent assessments of OneWest's dealings, including by the Federal Deposit Insurance Corp. inspector general and the Treasury Department, gave the company "high marks," Finance Committee Chairman Orrin Hatch, a Republican from Utah, said in remarks at the start of the hearing. Mnuchin had no involvement in the mortgage market leading up to the housing crisis, and he shouldn't be blamed for aggravating it, said Hatch.
"No one has credibly alleged that any laws, regulations or industry standards were violated by companies run by Mr. Mnuchin," said Hatch.
Democrat Ron Wyden, of Oregon, delivered remarks alleging Mnuchin dodged U.S. taxes by running offshore hedge funds -- an accusation Mnuchin denied. Wyden said Democrats aren't obstructing Mnuchin's nomination.
— With assistance by Austin Weinstein
Before it's here, it's on the Bloomberg Terminal.
LEARN MORE