Mnuchin Calls for Boosting IRS Despite House Plan to Streamline
Sahil Kapur and Kaustuv Basu
Treasury nominee said agency needs more staff, new technology

House Republican tax blueprint called for streamlining agency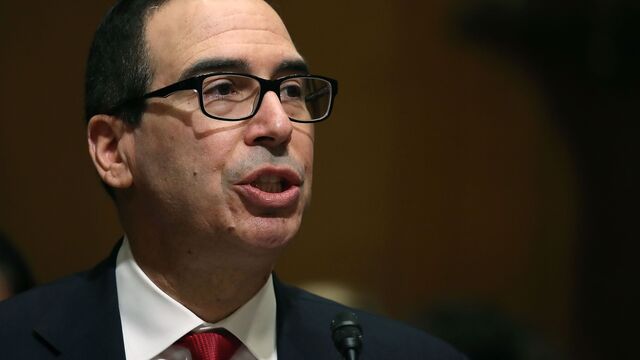 Treasury Secretary nominee Steven Mnuchin said one of his priorities if confirmed would be to increase staff and modernize technology at the Internal Revenue Service -- a move that Republicans who control the agency's budget may reject.
"I would use my expertise to bring the IRS up to date," Mnuchin, a former Goldman Sachs Group Inc. executive turned Hollywood movie financier, said during his confirmation hearing before the Senate Finance Committee on Thursday.
Mnuchin highlighted how IRS staff has plunged 30 percent over the past several years, and how the agency lacks internal technology experts to update its systems.
"Cybersecurity is such a big issue," and the IRS needs to protect American taxpayers' information, he said.
The IRS has suffered from years of budget slashing in part because of House Republicans who made the agency a target after gaining power in 2010. The number of employees at the agency dropped 16 percent from 2010 to 2015, according to the IRS. The agency's budget is determined by Congress through appropriations legislation. It had its first budget increase in fiscal 2016, but was still about $900 million less than its budget for fiscal year 2011, according to a report last year from the Government Accountability Office.
Republican Blueprint
House Republicans don't seem likely to support an expanded agency. A tax blueprint released in June 2016 by House Speaker Paul Ryan calls for "a streamlined structure" for the IRS that focuses on customer service for families, individuals and businesses, while also setting up an independent "small claims court" unit to resolve disputes entities have with the agency.
Conservative Republicans have more pointedly attacked the IRS. As a 2016 presidential candidate, Senator Ted Cruz of Texas called for abolishing it. The House Freedom Caucus, which represents the right flank of the GOP, last month sought to impeach IRS Commissioner John Koskinen for allegedly misleading Congress, an effort that House leaders didn't take up.
Still, Mnuchin said modernizing the IRS could receive bipartisan support. Senate Finance Committee Chairman Orrin Hatch said in a statement that he looked forward to working with the administration on restoring the IRS and overhauling tax laws.
"A simplified tax code will allow for a more streamlined IRS, and will require a reassessment of the agency's budgetary and personnel needs," Hatch said.
Increasing Workload
Mnuchin also said he would be able to easily convince President-elect Donald Trump that the IRS needs more employees.
"I can assure you that the president-elect understands the concept of 'we add people, we make money,"' Mnuchin said. "That's a very quick conversation with Donald Trump."
Tony Reardon, the national president of the National Treasury Employees Union, which represents IRS employees, said he was happy with Mnuchin's acknowledgment about the effect of staff cuts. Budget cuts have led to the reduction of employees, according to Reardon.
"Right now the IRS is facing a dramatically increasing workload with staffing levels down 31 percent from what it was just 19 years ago," Reardon said in an e-mailed statement.
'Mnuchin Rule'
Aside from the IRS, Mnuchin repeated during the hearing that Trump's priority will be a middle-class tax cut -- though independent analyses of Trump's proposals have said they'd supply larger cuts to higher-income people.
He chuckled over the term "Mnuchin rule," coined by Senator Ron Wyden of Oregon, as a reference to the Treasury nominee's statement in late November that Trump's plans would not provide absolute tax cuts for the upper class.
"Any reductions we have in upper-income taxes will be offset by less deductions so that there will be no absolute tax cut for the upper class," Mnuchin said during an interview with CNBC.
Wyden, the panel's ranking member, attempted to use that statement to question whether repealing Obamacare -- which includes a 3.8 percent tax on investment income -- would immediately constitute an absolute tax cut for the upper class. 
"You're already fudging on this commitment that you've made to the American people," Wyden said.
Before it's here, it's on the Bloomberg Terminal.
LEARN MORE