Mnuchin Puts Pressure on Banks Over Volcker Rule, Glass-Steagall
By
Treasury nominee offers some backing of Volcker trading ban

He says Trump could weigh return of law that split banks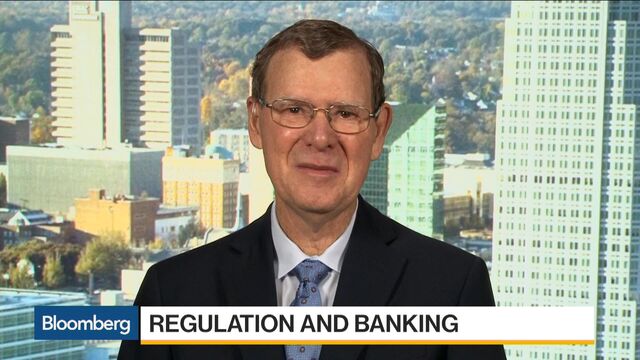 Steven Mnuchin indicated he might not give Wall Street everything it wants as Treasury Secretary, saying at his confirmation hearing Thursday that he supports the controversial Volcker Rule and that there might be merit in bringing back some version of the Glass-Steagall Act.
Donald Trump's nominee for Treasury said the Volcker Rule limits on banks' speculative investments make sense because "the concept of proprietary trading does not belong" in lenders that have a government backstop through deposit insurance.
Mnuchin said he opposes reinstating Glass-Steagall, a law Congress repealed almost two decades ago that required a strict firewall between commercial and investment banking. But he conceded that a "21st century Glass-Steagall" is something that policy makers should consider. He didn't offer any specifics.
Still, there was a lot for banks to like in Mnuchin's remarks. Volcker is among the 2010 Dodd-Frank Act's most hated provisions, and Mnuchin made clear that he thought it needed to be simpler and went too far in reducing trading.
Clearer Rules
"I support the Volcker Rule, but there needs to be proper definition around the Volcker Rule so banks can understand what they can do and what they can't do," Mnuchin, 54, said.
At his hearing before the Senate Finance Committee, Mnuchin mostly favored making changes to rules put in place in the wake of the 2008 financial crisis, not throwing them out. That could be a signal that a pledge by Trump shortly after his November election victory to dismantle Dodd-Frank might be done with a scalpel instead of a chainsaw.
Volcker was one of the core components of Dodd-Frank, and its strict limits on banks betting with their own money was meant to keep Wall Street from taking dangerous risks and acting against their customers. Banks have argued the rule was implemented too aggressively and have raised the same concerns as Mnuchin about it sucking up market liquidity.
As Mnuchin pointed out, the Federal Reserve also flagged problems in a September paper, concluding that institutions constrained by the rule "have decreased their market-making activities" and that bond markets show less buying and selling when stressed.
Glass-Steagall Return
Lawmakers from both parties have advocated for a Glass-Steagall return as a remedy for too-big-to-fail banks, with Republicans advocating for reinstatement in their platform released in July. Mnuchin made clear the thought that was a bad idea.
"Separating out banks and investment banks right now under Glass-Steagall would have very big implications," he said, potentially hurting liquidity, the capital markets and bank lending. But he said Trump's administration will look into some new way of walling off bank risk. Trump's transition website says that "it's time for a 21st-Century Glass-Steagall."
As it happens, one of Trump's most prominent Democratic antagonists, Senator Elizabeth Warren of Massachusetts has proposed legislation along with Republican John McCain of Arizona called the "21st Century Glass-Steagall Act." But neither Trump nor Mnuchin have provided enough information to tell whether those proposals will overlap.
Karen Shaw Petrou, managing partner at research firm Federal Financial Analytics, said Mnuchin's testimony solidified her view that Trump and his advisers are serious about using regulatory agencies and legislation to revamp crisis-era rules.
No Bailouts
"The Trump Administration will redefine the structure of the U.S. financial industry through as much regulatory change as they can get through the independent agencies and a sharply-divided Congress," Shaw said in an e-mail.
Mnuchin's comments on financial regulation triggered a shrug from bank investors. The 24-company KBW Bank Index fell less than one percent in trading Thursday.
On bailouts, Mnuchin was firm that the government "should not be in the business of bailing out big banks."
He did say he has "certain concerns" with the powers Dodd-Frank gave regulators to seize and take down large lenders that are failing. Mnuchin said he supports changing the bankruptcy process to make it easier for that to be done through the courts. He added that "proper regulation" should negate the need for authorities to have to wind down failing banks.
Before it's here, it's on the Bloomberg Terminal.
LEARN MORE