Dutch Elections Can't Be Won by Changing the Story, Rutte Says
by and
The Dutch Will Vote in General Elections on March 15

Freedom Party Leader Geert Wilders is Rutte's main competitor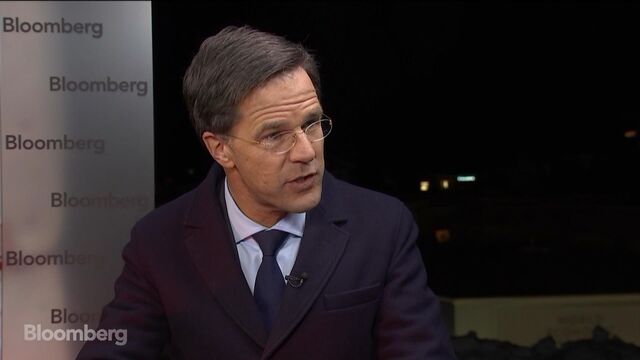 The Dutch Liberal Party can win over voters from populist Geert Wilders' Freedom Party by showing that all people will benefit from the economic recovery, Prime Minister Mark Rutte said.
"Many people know that, now we are coming out the recession, they had to pay the price to achieve this fact," Rutte said in a Bloomberg interview at the World Economic Forum in Davos. "What I now want to show to the Dutch people is that everybody has to be part of this recovery. That's something I'm working on, and I'm absolutely convinced that I will win that argument."
Wilders is Rutte's main competitor going into general elections that are scheduled to take place on March 15. Opinion polls show the anti-Islam, anti-European Union Freedom Party is ahead and poised to win the largest number of seats, while Rutte's Liberal Party is second.
The vote is being closely watched in the European Union, where governments are coming to terms with the U.K.'s vote to leave the bloc and a wave of populist politicians have gained traction after years of stumbling economic performance and the worst refugee crisis since World War II. The Netherlands is the first of a group of countries representing about 40 percent of the EU's gross domestic product to hold national polls this year.
EU Positions
Wilders has advocated closing the borders to new immigrants and pulling the Netherlands out of the EU. He has surged in popularity in recent years with anti-Islamic rhetoric and by arguing that the political elite is ignoring the interests of Dutch people who pay too much tax and don't get enough back from the government. As opposed to Wilders, Rutte sees the importance of the Netherlands being part of the EU.
"You want to be part of the single market, and that, for the Netherlands, is crucial because of our economic position," he said.
The Freedom Party has enough support to win 30 out of parliament's 150 seats if elections were held today, according to a Kantar Public poll on Jan. 17, one more than Rutte's
Liberals.
Before it's here, it's on the Bloomberg Terminal.
LEARN MORE