Draghi's Come-Back-Later Gives ECB Pause to Ponder Future
by
ECB president says QE is proving successful as economy heals

Central banks globally need to work out their post-crisis role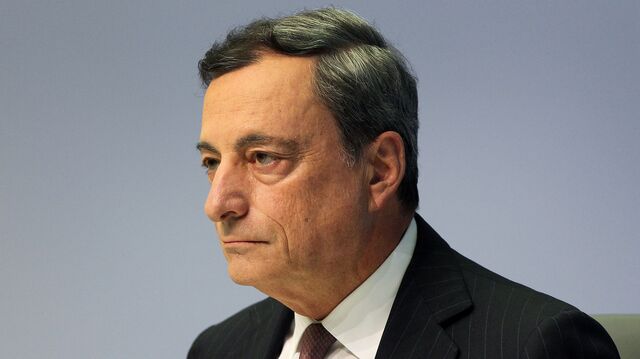 If ever there was a moment for monetary-policy practitioners in Europe to take a time-out for reflection, it's now.
With the economic ramifications of Donald Trump's U.S. presidency as yet unknowable and the shape of Brexit only beginning to form, the European economy is -- by its modest standards -- humming along, partly on the fuel of the European Central Bank's 2.28 trillion-euro ($2.42 trillion) quantitative-easing program. After a relatively uneventful policy meeting in Frankfurt on Thursday, ECB President Mario Draghi essentially said: 'Come back later.'
If that sentiment wasn't clear enough on the day, Bank of France Governor Francois Villeroy de Galhau made the point on Friday.
"We have time and we have the whole year in front of us," he said in a Bloomberg Television interview at the World Economic Forum in Davos, Switzerland.
It's not that there's nothing for the ECB to do -- Draghi himself fretted about a lack of underlying inflation pressures. It's that the longer-term challenges, from how to eventually wind down its largest-ever balance sheet to finding the right institutional framework for the post-crisis world, are so complex and far-reaching that a period of constancy might be what officials need to start thinking things through.
On Thursday, policy makers reaffirmed their intention to run asset purchases until at least the end of 2017, while trimming the monthly pace as of April, and economists see little chance of that stance changing before September. That allows the ECB to provide a steadying hand through elections in the Netherlands, France and Germany and the start of Trump's time at the helm of the world's largest economy, all of which carry the potential for shocks to the euro area's recovery.
QE History
Economists see the current phase as the beginning of the end of the program. For his part, Draghi has effectively already declared it to be a success.
"It's increasingly clear that this policy stance has been successful," he said at a press conference, noting that consumer confidence is at the highest since April 2015, unemployment at the lowest since 2009 and that four and a half million jobs have been created in the last three years.
How and when an improving labor market translates into higher wages and sustainably healthier inflation is the kind of slow-burn economic problem the ECB may be happy to ponder over now. Draghi urged those seeking a normalization of interest rates to "be patient."
The process might not be straightforward. Led by the U.S. Federal Reserve's path toward higher rates, monetary-policy theorists are beginning to think about what comes after the extraordinary period of central-bank stimulus that the world is living through.
At the World Economic Forum this week in Davos, Switzerland, a polite split emerged between those who want a return to status-quo ante with lean balance sheets and a focus only on inflation -- such as former Bundesbank President Axel Weber -- and those who want to use the territory gained during the crisis to prevent another one.
Political Challenge
That would mean continuing to push central-bank activity into macroprudential policy -- worrying about house prices, bank lending and so on -- as well as financial supervision and stability.
In Europe, such discussions are often drowned out in the political noise, and this period is no different. As an election approaches, German criticism of the ECB has reached fever pitch. Finance Minister Wolfgang Schaeuble told Bloomberg Television after the Governing Council decision that while he trusts the central bank to "do the right thing," his government will face "political problems" in explaining the institution's policy to the public. Germany is scheduled to hold elections in the fall.
There is plenty on the horizon to disturb the ECB's peace, including the shakiness of Italian banks and constant aid tribulations in Greece, though it wouldn't be clear what monetary officials could do about either of those things. In the meantime, they can take advantage of calmer seas to sit back and think.
Before it's here, it's on the Bloomberg Terminal.
LEARN MORE