Draghi Bingo Is ECB Watchers' Game as Stimulus Boosts Prices
by
ECB announces policy decision at 1:45 p.m. Frankfurt time

President's language in focus with no policy change forecast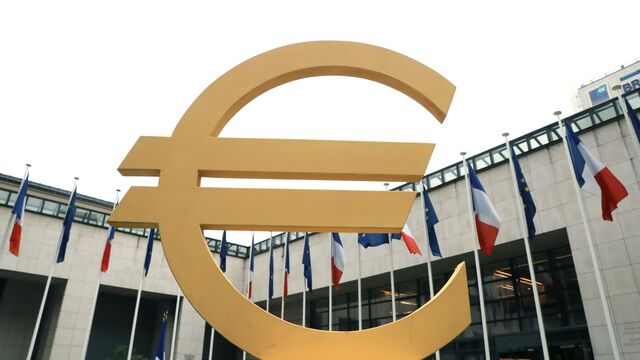 As economists watch the European Central Bank inject three-quarters of a trillion euros into the financial system this year, they can while away the time by looking out for a change in language from Mario Draghi.
The ECB president is likely to insist that quantitative easing must continue to safeguard the euro area's recovery when he speaks after the Governing Council sets policy on Thursday. But with an inflation pickup causing alarm in Germany, he may also be asked when he might describe the risks to the price outlook as "broadly balanced" -- a judgment he hasn't made in more than two years.
Click here to set a reminder to watch Draghi's news conference live.
The Governing Council's first policy decision of 2017 comes six weeks after Draghi declared the threat of deflation to be almost vanquished, and will probably mark the start of a year in which the pressure continually mounts for officials to discuss if and how stimulus should be withdrawn. In a sign that the mood is gradually changing, Executive Board member Benoit Coeure acknowledged last month that the balance of risks to inflation is "shifting."
The policy decision will be announced at 1:45 p.m. Frankfurt time, and Draghi will speak to reporters 45 minutes later. All economists surveyed by Bloomberg predict the central bank will keep interest rates unchanged. Monthly asset purchases should stay at 80 billion euros ($85 billion) until March and 60 billion euros from April to December.
Tread Carefully
Rising inflation is "something he has to somehow tread around," said Ulrike Kastens, head economist at Sal. Oppenheim Group in Cologne. "The argumentation will most definitely be that 'sure, inflation is higher' but he'll go back to the core rate and also to the weak overall economic environment."
In the press conference, Draghi may also be asked about the ECB's decision in December to allow purchases of debt yielding less than the deposit rate -- currently minus 0.4 percent. Euro-area central banks still lack a formal agreement on the procedures for this, according to people familiar with the matter who asked not to be identified because the discussions are confidential.
Three-quarters of economists surveyed by Bloomberg before the latest meeting said the ECB's next major change to stimulus will be announced no sooner than September.

Draghi has long warned against the threat of too-low inflation -- or worse, a spiral of decreasing prices and wages -- and hasn't described the risks as "broadly balanced" since August 2014. That key phrase in ECB policy statements was dropped at the following meeting as the Governing Council cut interest rates for the second time in three months and announced an asset-purchase program. Since then Draghi has focused more on the risks to economic growth, which he said last month "remain tilted to the downside."
At the time, inflation was below half a percent, compared with 1.1 percent last month. The ECB's balance sheet was at 2 trillion euros and has since almost doubled.
Political Uncertainty
One of Draghi's defenses is likely to be that the region faces an unusual degree of uncertainty in 2017. Economies including Germany, France and the Netherlands will hold elections in which euro-skeptics might gain increased support, and the U.K. is set to start formal talks on leaving the European Union. A further risk comes from any protectionist action by Donald Trump, who will be inaugurated as U.S. president on Friday.
The ECB chief's remarks will likely contrast with those by his U.S. counterpart Janet Yellen. On Wednesday she said the U.S. economy is "close" to the Federal Reserve's objectives and she's confident it will continue to improve, warranting a gradual reduction of monetary support.
Draghi and Yellen's actions will feed into a wider debate over whether central banks are being too cautious in normalizing policy. That discussion surfaced again this week at the World Economic Forum in Davos, Switzerland, where former Bank of England Deputy Governor Paul Tucker warned against allowing unelected monetary officials to intervene too much in the economy.
"How central banks conduct themselves is of the utmost importance now," he said. "The people will not forgive us if there's another crisis."
The headline inflation rate for the euro area last month was the highest since 2013, and almost twice as high as in November. German inflation jumped to an annual 1.7 percent, sparking media outrage. Bundesbank President Jens Weidmann has said the ECB should "tighten the reins" as soon as feasible, and an account of the last policy meeting highlighted disagreements over the proposal to extend QE.
Even so, the ECB remains well short of its goal of price growth just under 2 percent, and has expressed concern that the increase so far is largely due to oil. Core inflation picked up only slightly to 0.9 percent and policy makers said last month that they still see no convincing upward trend.

There is little sign that the Governing Council is ready to endorse more hawkish language just yet. Austria's Ewald Nowotny, France's Francois Villeroy de Galhau and Executive Board member Yves Mersch have all indicated that they see worries about a return of inflation as exaggerated.
"To me it's clear that the ECB wanted to buy some time to get out of the headlights for a while," said Anatoli Annenkov, an economist at Societe Generale SA in London. "But once we're past that policy uncertainty in the spring, I don't see any reason why we wouldn't be discussing the pace of balance-sheet expansion again by mid-year."
Before it's here, it's on the Bloomberg Terminal.
LEARN MORE