Innovation
Can 10 Camera Sensors Beat One?
Light's L16 uses multiple sensors to offer DSLR quality at smartphone size.
By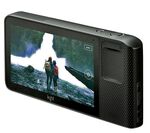 Innovator Rajiv Laroia, co-founder and chief technology officer of Light, a three-year-old, 75-employee startup in Palo Alto.
Age 55
Form and function
The Light L16 aggregates images from multiple phone-camera-size sensors to create pictures with a resolution as high as 52 megapixels, a little higher than the best digital single-lens reflex (DSLR) camera on the market.

Point
The L16 is about the size of a smartphone, but thicker. A photographer points the face, with its 16 sensors, at a subject, then uses the touchscreen to zoom in or out.
Origin
Laroia, an electrical engineer and amateur photographer, conceived of the camera in 2012 while serving as entrepreneur-in-residence at venture capital firm Charles River Ventures.
Funding
Light has collected $64.7 million from investors including Charles River Ventures, Bessemer Venture Partners, Eclipse Ventures, and Google's VC arm.

Production
The company plans to begin making the L16 by the middle of this year. Light will offer it on its website for $1,699. A comparable DSLR camera runs about $3,000.
Shoot
Pressing the shutter button fires 10 sensor modules of varying focal lengths, depending on the selected zoom. An internal processor stitches the images together to produce a single image with uniformly high resolution.
Next Steps
Laroia says future Light cameras will have telephoto capabilities. He also wants to partner with other manufacturers to bring the technology to smartphones, self-driving cars, and security applications. "What I saw with the preproduction L16, compared to a professional-level Canon DSLR, was really astounding," says Adam Ottke, an editor at photography news site Fstoppers. "To have that power in a 'snapshot' camera is something entirely new."
Before it's here, it's on the Bloomberg Terminal.
LEARN MORE