You Deserve a Workation
Why use vacation days when you can get the job done in Umbria?
By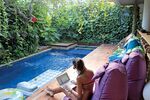 As our jobs creep into every minute of daily life, it can be hard to get away. So don't even bother. These companies combine work with play, taking life as a digital nomad way beyond the confines of your local coffee shop.
DigitalOutposts
Travelers spend two weeks to two months on destination co-working experiences in locales including Bali; Ko Pha Ngan, Thailand; and Puerto Vallarta, Mexico. "People have a reliable workspace, so that they can arrive in a new place and be as seamlessly productive as they would be at home," says co-founder Ed Hsieh. Individuals apply for a spot; DigitalOutposts puts together groups that are professionally and demographically diverse.
Come if ... you're ready to buckle down. "Most of our guests end up taking little or no 'vacation time' while with us," Hsieh says. The company wants adventurous self-starters who will make nonwork hours fun for the whole squad. Cohorts have hiked volcanoes, gone cliff jumping, and taken Muay Thai boxing classes. One guest on a Thailand excursion organized an event at Challenge Phangan, a water-based obstacle course that's American Ninja Warrior hard.
Cost: Starting at $1,295 for two weeks, includes accommodations, co-working space, and social activities; digitaloutposts.com

Surf Office
Surf Office's website promises a "boost of team spirit" that will help you "build productivity under the sun." Businesses "relocate" teams—from 5 to 80 workers—for a week of beachside meetings in coastal Lisbon or Madeira, Portugal; or Barcelona, Malaga, or Gran Canaria, Spain. Once there, colleagues bond, explore, and (obviously) surf. In addition to conference rooms, Wi-Fi, projectors, and a concierge who responds to requests via Slack, the company also runs team-building activities: beach games, group hikes, communal meals.
Come if ... you're sick of holding your retreat in a hotel conference room, or you're looking for a hub where remote team members can congregate. Worried that your employees will ditch meetings to hang 10? "You're there with all your colleagues, so it's nonsense to leave them and go to the beach," says founder Peter Fabor. And with no extra commute to work, he says, "there is still plenty of time" to catch some waves.
Cost: Starting at about $48 per person, per day, includes shared accommodations (two or three people in a room) and workspaces; thesurfoffice.com

SecondHouse
Jealous of well-to-do friends who do their "working from home" at a beach house in the Hamptons? SecondHouse lets members share a vacation home without the hassles of upkeep or a mortgage. The company's first location—off a private New York beach on Long Island's North Fork, with four bedrooms and two baths, an enclosed deck, outdoor shower, and Wi-Fi—opened for business in July. "We're not a party house, and we're not WeWork," says Peg Samuel, who manages strategic partnerships. For New Yorkers on vacation, "work always comes up," she says. Another house will open in New York's Catskill Mountains this year, and there are plans to expand to California and Europe.
Come if ... you have dreams of jumping into a passion project in a romantic setting. To further promote creativity, the company hosts monthly salons at Manhattan's Soho House (free for members; $75 otherwise) on topics including culture, business, and world affairs.
Cost: $450 annually, plus the cost of rooms, which start at $70 per night; secondhouse.club

Refuga
Themed programs include a women's or a luxury workation in Morocco, a mountain workation near Barcelona, and a food lovers' workation in Italy. At the last one, groups of 15 to 20 entrepreneurs stay on a sustainable farm in Umbria and eat homegrown meals featuring olive oil and wine produced on site. Travelers on the luxury getaway stay at a villa outside the coastal city of Essaouira (no extra charge for the views of wandering camels). Every home—the company says it scouts more than 200 in each location to find the ideal one—includes a large work area. But you can also take your laptop to the pool, which all abodes have as well.
Come if ... you're a small business owner looking to network with others. The trips are "intense," says company founder Nikolaj Astrup Madsen. At communal lunches and dinners and daily workshops, guests discuss professional challenges, brainstorm, and problem-solve. "You have deep talks over dinner. You're with people all the time," Madsen says. "That's how we like it."
Cost: $1,600 to $1,950 for a week, includes accommodations, meals, and in-country travel; refuga.com

Nomad House
The emphasis of these 10- to 20-day rotating retreats in locales such as Pura Vida, Costa Rica; Medellín, Colombia; and Budapest is on finding yourself while building connections with others in the digital nomad community (aka those lucky people who can work on freelance projects wherever they want). The programs stress yoga, meditation, and immersion in nature.
Come if ... you want a taste of the nomadic lifestyle or are already location-independent and want to park yourself somewhere. But if you've got a big deadline looming, this might not be the place to meet it, given the potential for distraction.
Cost: From $1,090 for a 10-day retreat, includes accommodations, co-working space, and some meals; nomadhouse.io
Outsite
No time or budget to travel to Thailand? Try California. Outsite, which founder Emmanuel Guisset calls "a timeshare for millennials," runs homes in Venice Beach, Santa Cruz, and San Diego, as well as near Playa Jaco on the western coast of Costa Rica and in Rincón, Puerto Rico. In addition to dedicated co-working facilities, you can ride bikes, play beach volleyball, soak in hot tubs, cook barbecue, and sip organic coffee (houses come stocked). Subscribers stay at one or multiple homes each month; businesses can book an entire house for a retreat.
Come if ... you have to be in the office only part time, you're a freelancer, or your coffee shop is feeling staid. If you sign up for a $50-per-month membership, you get perks such as free weekly meals, discounted room rates, and the free use of surfboards. You don't have to make that commitment, though; rates are available for nonmembers who want to scope out homes first.
Cost: From $65 per day, $300 per week, or $900 per month for nonmembers, includes accommodations only; outsite.com

Before it's here, it's on the Bloomberg Terminal.
LEARN MORE