U.K.'s Johnson Warns Hollande Not to Act Like a Movie Nazi
By
Says French president shouldn't hand out 'punishment beatings'

Foreign Secretary risks offending EU before Brexit talks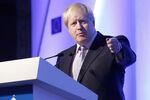 U.K. Foreign Secretary Boris Johnson applied his unique style to the delicate Brexit negotiations by warning French president Francois Hollande against behaving like a Nazi in a World War II movie.
Johnson made the comments during a foreign-policy conference in India on Wednesday when he was asked if Britain will be made to pay a price for leaving the European Union.
"If Hollande wants to administer punishment beatings to anybody who seeks to escape, in the manner of some World War II movie, I don't think that is the way forward," Johnson said. "It's not in the interests of our friends and partners."
The remarks, about a war that saw France occupied by Germany and citizens who opposed the Nazis tortured and killed, are unlikely to improve relations. In a Twitter post, Guy Verhofstadt, the European Parliament's Brexit negotiator, described them as "yet more abhorrent and deeply unhelpful comments." He called on Prime Minister Theresa May to condemn them.
Martial Language
It's not the first time Nazi comparisons have got Johnson into trouble. He was criticized by European politicians in 2016 for saying that the EU was an attempt to achieve Adolf Hitler's goal of a united Europe by different means.
World War II and films about it are a strong cultural reference point for many Brexit supporters. Brexit Secretary David Davis also mentioned the war during an interview on Wednesday and newspapers have reported May's speech on her Brexit strategy in martial language. The Daily Mail portrayed May standing on the white cliffs of Dover with her foot on an EU flag.
In an awkward coincidence, Communities Secretary Sajid Javid on Wednesday called on people to stop making World War II analogies. "We have to push back when people lazily reach for glib comparisons that belittle what happened, calling those we disagree with 'Nazis,"' he said at an event about the Holocaust.
May's office declined to condemn Johnson's remarks and accused journalists of over-hyping them. "He was talking about punitive deals," the prime minister's spokeswoman, Helen Bower, told reporters in London. "He was making a point about how both sides are approaching the deal. Let's see what the reaction is from the Elysee."
Asked if the prime minister would have used the words, Bower replied: "They've got different styles."
Before it's here, it's on the Bloomberg Terminal.
LEARN MORE