Trudeau Ditches Davos, Moderates His Message for Trump Era
By
Incoming president prompts cabinet shuffle and trade overtures

Canadian PM also working to address populist concerns at home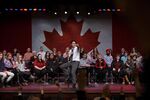 Justin Trudeau swept to power in Canada as, among other things, a pro-trade feminist pledging an influx of refugees and a renewed global agenda.
Now, with voter unrest upending the Western world and Donald Trump days away from power, the prime minister is changing tack.
Trudeau has quietly and steadily refined his approach since the U.S. president-elect's win. High-profile moves include changing his top diplomat -- replacing a climate wonk with a star trade minister and one-time New Yorker -- while pivoting inward by canceling a trip to Davos for a rural Canadian junket privately referred to by staff as his "cowbell tour."
The 45-year-old leader hailed recently by outgoing Vice President Joe Biden as one of the last global icons of liberalism is, in effect, bracing for the Trump era by playing nice and moving to quell any populist waves at home. While Trudeau's core values of pluralism remain, his course correction is a signal Trump's influence continues to ripple far beyond Washington.
"We know we can't take rural areas for granted," Trudeau said last week sporting a large belt buckle, casual pants and rolled-up sleeves at a town-hall session in Belleville, Ontario -- a world away from the Swiss Alps. He acknowledged the fears of voters worldwide that have fueled protectionist movements. "It becomes easy to want to close off from the world."
Personal Popularity
Trump is taking power as Trudeau's honeymoon fades. The Liberal prime minister's popularity hit a 12-month low this week as he faces questions about fundraisers with wealthy Chinese donors and an investigation by the ethics commissioner into a holiday vacation to a Bahamian island owned by the Aga Khan, a family friend. The controversies fueled partisan attacks that the son of former Prime Minister Pierre Trudeau is out of touch with average Canadians. And it was in the shadow of those critiques that he started his tour.
Meanwhile, top Trudeau aides -- Principal Secretary Gerald Butts and Chief of Staff Katie Telford, plus lawmaker Chrystia Freeland -- have been meeting with senior Trump officials including Stephen Bannon and Jared Kushner, the president-elect's son-in-law. Trudeau has since promoted Freeland to foreign minister and reached out to the Canadian architects of the North American Free Trade Agreement, staking out common ground with Trump by repeatedly emphasizing his middle-class agenda.
"It's fair to say there are red lights flashing in corporate and government offices across the country," said Roland Paris, a University of Ottawa professor and former foreign policy adviser to Trudeau. "I think there's also a sense of hopefulness because Canada hasn't been targeted specifically for criticism, and because Canada doesn't fit the profile of countries Mr. Trump has criticized for allegedly stealing U.S. jobs."
On Wednesday, Trudeau appointed lawmaker Andrew Leslie, who had been serving as his caucus whip, as parliamentary secretary to Freeland and tasked the retired lieutenant-general with improving Canada-U.S. ties. "I know he has the necessary relationships and experience to help establish a constructive dialogue with the new U.S. administration," Trudeau said in a statement.
Domestic Rivals
It's not just the governing party adjusting. Rona Ambrose, interim leader of the opposition Conservative Party, is traveling to Washington this week to argue the merits of Canada trade with the new U.S. Congress. "Whether you're a legislator of any type, it's time to make the case to American congressional leaders," she told Bloomberg TV Canada.
As Trudeau moves to get off on the right foot with the incoming president, he faces Trump-inspired challengers at home. The Conservatives have two leadership candidates treading the Trump path -- one railing against "elites" and pledging to "drain the canal" in the capital city; the other a former television personality known for brash statements who announced his candidacy Wednesday.
"Trudeau's personal numbers are still very strong but have been declining," pollster Nik Nanos said, adding the prime minister has benefited from his two main rival parties being without permanent leaders. 
While Trudeau shores up his everyman credentials, Trump's impact is unclear. The president-elect's aides have signaled Canadian auto manufacturing won't be exempt from protectionist measures, and Trudeau's finance minister is said to be weighing the risks of Trump policies in crafting his budget. But some of those advising Trudeau are preaching patience.
"I really don't think we are the target of the fiercest rhetoric we heard in the campaign, so I'm basically saying don't set our hair on fire unnecessarily," said Derek Burney, a former diplomat and chief of staff to Brian Mulroney, the Progressive Conservative prime minister who signed Nafta.
Trade Ties
Burney, now at law firm Norton Rose Fulbright, has advised Trudeau officials on dealing with Trump. He said he warned them they may have to back off policy pledges to avoid losing a competitive edge to the U.S.
While at odds on many issues, Trudeau has sought to make the most of the Trump era. Any Nafta changes, however, come amid brewing battles over softwood lumber, drywall and even Super Bowl advertising.
Immigration is another potential flashpoint. Trudeau brought in an influx of Syrian refugees -- welcoming some personally at the airport -- but has since faced challenges accommodating them. Canada expects to bring in 40,000 refugees this year, down from roughly 56,000 in 2016.
The prospect of Trudeau forging a good working relationship with Trump, despite their differences, doesn't seem that far-fetched to Burney. "Ronald Reagan was as foreign to Pierre Trudeau as Donald Trump will be to Justin," he said. "The trick will be whether we can find common ground."
Rural Outreach
Trudeau's tour is focused on places that look a lot like Trump country -- skewing more rural and white. During town-hall events, he randomly picks people from the crowd to ask him questions; one woman used hers to thank him for not screening those queries in advance. The others ranged from climate policy to public-servant pay to transgender rights. The prime minister drew both praise and pointed criticism about his policies.
"I don't think he plays as an everyday man. He's obviously lived a life of luxury," Dave Emery, who backed the Conservatives in the last election, said during the tour's first stop in Manotick, Ontario, near Ottawa. At subsequent stops, Trump questions became impossible to avoid.
And as Friday's inauguration nears, Trudeau's challenge goes beyond tone. If he continues to push climate policy -- such as joining with Barack Obama last month to crack down on Arctic oil drilling -- he risks alienating the Trump team, according to another former Canadian diplomat.
"Very strange things are happening in the United States right now and we've got no place to go. We can't run, we can't hide," said John Higginbotham, now a senior fellow at Carleton University and the Centre for International Governance Innovation. He praised Trudeau's approach so far but also warned Canada is likely in for a shock. "This is a knife fight with a New York realtor. And we're really not in the same league."
Before it's here, it's on the Bloomberg Terminal.
LEARN MORE