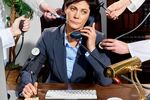 I am in good health. I am out of shape.
These two facts—one I hoped to be true, and one I absolutely knew to be true—were delivered to me at the end of a thorough two-day medical exam in early November at the Mayo Clinic in Rochester, Minn. I underwent this battery of tests not because I was at risk for any major illness, nor because I'm a hypochondriac (I mean, no more of one than any unfit 42-year-old man has a right to be), but because the renowned medical center offers something called the Executive Health Program, which sounded exceedingly fancy.
Executive Health is to a doctor's visit what the Concorde was to domestic coach. It's designed "for the busy executive on the go," not unlike the services advertised on 50-year-old signs at my dry cleaner. And though high-end health-care offerings such as this one are taxed heavily under the Affordable Care Act, and companies are always looking to cut expenses, neither issue has diminished the demand for these services at Mayo. Even with a price tag that hovers at about $5,000 in out-of-pocket costs—not including food, lodging, and airfare, which can easily double that figure—Executive Health admissions at Mayo rose from 10,887 patients in 2011 to 17,667 in 2015, or 62 percent.

During my visit I was subjected to a series of tests and examinations that, if I'd needed to schedule and attend them individually, would easily have taken two months to complete. (Hearing exams aren't usually atop my to-do list.) More than any particular test, one-stop shopping is the selling point: Captains of industry can simply block out a couple of days in their calendar and get all their poking and prodding in at once. "Think about the kinds of lives many of these executives lead," says Dr. Stephanie Hines, the program's director. "They travel all the time, they're out at business dinners—it's not a recipe for regular exercise and a good diet. In many cases, patients are coming to us knowing they're not taking care of themselves. Their visit here is a way to help get back on track."
These programs have become standard fare at leading U.S. hospitals. You can participate in them not only at Mayo, but also at the Cleveland Clinic, Massachusetts General in Boston, Johns Hopkins in Baltimore, the UCLA Medical Center, and many other major institutions. Some of them even have satellite locations in such executive-friendly destinations as Jacksonville, Fla., and Scottsdale, Ariz. With their high fees and generally healthy patients, the programs are a profit center.
In many cases, companies are footing the bill, but their reasons for doing so aren't entirely altruistic. No company wants to be in a situation where the chief executive officer suddenly becomes ill, like when United Airlines' Oscar Munoz underwent an emergency heart transplant only five weeks after assuming the job in 2015. "It's a relatively small expense as a percentage of an executive's total compensation, but it's worth it if they find something," says Sue Holloway, who heads the executive compensation division at WorldatWork, a human resources industry group.
Some companies make an annual habit of sending entire employee categories, such as executive vice presidents, together at the same time; others send individuals after they're hired. Executive health programs share test results with employers or other individuals only if the executives authorize them to, which most do. One common workaround is to have a provider inform an employer simply if the employee passed or failed. A failing grade could be grounds for dismissal.
 
 
To say the Mayo Clinic dominates Rochester is an understatement: It employs 35,000 people in a city of 111,000. The roughly 350-acre campus includes not only the expected medical buildings, but also 10 hotels ranging from budget options to the luxury Towers at Kahler Grand, the top floor of the 95-year-old Kahler Grand Hotel, across the street from Mayo's main entrance. All of this—as well as various restaurants and shopping centers—is connected by a system of underground walkways and above-ground skyways. Once I hung my coat in my hotel room, I wouldn't have to put it on again until I left for the airport—a boon in a city that gets 4 feet of snow a year.
Executive Health patients, whose appointments typically start at 7:30 a.m., first go to a dedicated floor in one of the hospital's main buildings. The waiting room was significantly nicer than the one in my family doctor's office, with warm wood tones, comfortable chairs, and soft lighting. Other amenities needed an update: The only reading materials were copies of Farm & Ranch Living, Family Circle, and a magazine called Reminisce (which seemed a bit too on-the-nose at a place where one could learn one's days were numbered). The Muzak in the room included versions of I Believe I Can Fly and The Way We Were. Hospital's gonna hospital, I guess.
The clinic sees its fair share of famous people—patients have included the Dalai Lama and members of the House of Saud—so it's institutionally discreet. Patients get a small device that flashes and vibrates (like the ones at Cheesecake Factory) when the doctor is ready. He simply walks over to a nurse and introduces himself.
The day begins with a review of personal and family medical history conducted by a nurse in an examination room, followed by a gown change and a visit from the physician who manages a given executive's file. My doctor, Wayne Feyereisn, resembled a combination of Michael Douglas and Donald Rumsfeld, which I found reassuring. After some discussion about my visit, he gave me the same physical I get each year. Then it was time for my next appointment.
Dr. Feyereisn wouldn't be accompanying me on each stop along my journey. Finding my way was made easier by an app I downloaded when I arrived that kept an updated list of appointments and helped me navigate campus maps. The app was also useful when I was not at the clinic: I could communicate with the medical staff, and all my medical records were viewable, too. When I completed the program, I could e-mail those records to my doctor at home.

The rest of the day consisted of a series of short walks and visits with various medical personnel. I took a treadmill stress test that was both revealing and embarrassing; I sat in a soundproof room, listening for extremely faint tones, to test my hearing; I had a chest X-ray and an EKG. Thanks to almost 5,800 years of Judaism coursing through me, the latter entailed a chest shaving, so the leads could adhere reliably to my body. I met with a cardiologist, a dermatologist, an ophthalmologist, a physical therapist—pretty much all the "ists."
To this list of experts, Mayo has added two professionals whose titles didn't exist a couple of years ago: a genetic counselor and a genetic pharmacist. Mayo will do a full-genome sequencing for about $10,000, but the hospital is currently evaluating a new test that will bring the price down to about $1,000, putting genetic screening within reach for many more people. For $3,000, researchers could also describe how more than 250 medications interact with my body at the genetic level. That price is also falling fast; sometime this year, the hospital expects it to drop to $300.
 
 
Given that there are only so many Fortune 500 CEOs in this country, do the rest of us plebes have a use for this? There's no data that breaks down these programs' customer base, so it's hard to say how many nonexecutives take advantage, but $5,000 isn't too steep for a group far larger than corporate titans to pay—especially if a company covers the cost. This was the case with Robert Hollingsworth. The now retired senior vice president and general manager of a New York-based technology company had no reason to be concerned about his health. But his company's life insurer did. It requested that Hollingsworth, now 68, undergo an executive health exam to qualify for what he describes as a "not insubstantial" benefit that would be paid to his wife and employer if he died. "It was remarkable, getting all that information in one session," says Hollingsworth, who took his physical in the Austin area in 2011. "They tested for things no one had ever tested for before," such as the presence of nicotine and cocaine. Hollingsworth chose not to share his records with his employer—only that he'd passed.

Was my time at the clinic worth $5,000? I got checked for the Ashkenazi breast cancer markers, BRCA-1, 2, and 3 (I was negative), which is a test I wouldn't have undergone at a standard physical. But the convenience of it all—and the calming psychological effect of knowing you're under the watchful eye of a Mayo Clinic physician, who one assumes is a really, really good physician—has a value that's hard to quantify. By the end of my visit, I felt reassured by the care I received and was certainly aware of the steps I needed to take to further ensure the good health I've enjoyed. The cardiologist I met with, Ray Squires, described my body as "deconditioned," which was wonderfully diplomatic of him. To get into shape—and make sure any future visits to Rochester are solely voluntary—is going to require more than two days.
Dammit.
Before it's here, it's on the Bloomberg Terminal.
LEARN MORE