South Korea Court Rejects Arrest of Samsung Heir Jay Y. Lee
by and
Presidential scandal ensnares country's biggest conglomerate

Lee poised to take control of Samsung business empire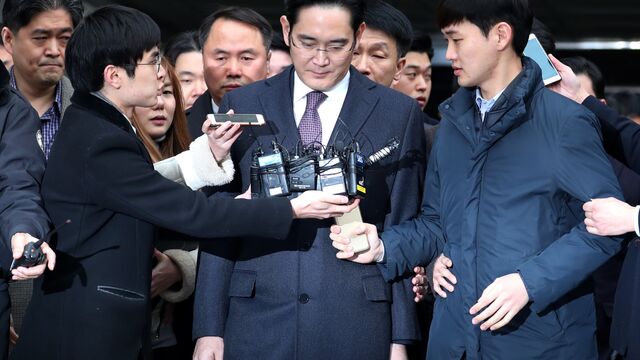 A court in South Korea turned down prosecutors' request to arrest Samsung Group's Jay Y. Lee on alleged bribery, perjury and embezzlement, letting him stay in place atop the country's most powerful company while they continue their investigation.
The court said there wasn't enough evidence to keep Lee in jail based on the facts presented about alleged payments and other charges. "It is difficult to acknowledge the necessity and justification for an arrest at this stage," Seoul Central District Court Judge Cho Eui-yeon said in a statement early Thursday morning.
The de facto head of the Samsung Group and vice chairman of Samsung Electronics Co. is being investigated for allegedly providing tens of millions of dollars to benefit a close friend of South Korean President Park Geun-hye in exchange for approval of a merger between two Samsung affiliates. The deal helped Lee, 48, consolidate control over the sprawling conglomerate founded by his grandfather.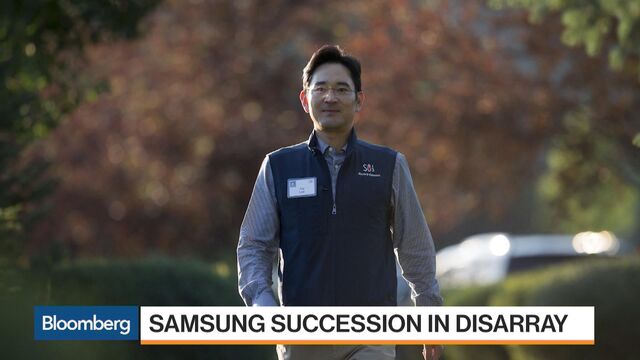 Samsung has denied that it provided financial aid in return for any favors. The decision lets Lee avoid spending weeks or months in jail and proceed with plans to secure his leadership atop the country's biggest company, after his father was incapacitated by a heart attack two years ago. Samsung is also seeking to recover from last year's botched debut of the Note 7, a smartphone that was discontinued after it showed a tendency to catch fire and explode.
"We appreciate the fact that the merits of this case can now be determined without the need for detention," Samsung said in a statement.
QuickTake The Issues Facing South Korea's Chaebol
In ruling against the arrest warrant, the court judge suggested the evidence investigators' produced may not be enough to win prosecution.
"What the court is saying basically is that the evidence presented by the prosecutors isn't clear enough to justify the bribery case," said Kang Shin-up, an attorney at the Hana law firm. "In short, it means it's hard to charge Lee with bribery just yet."
What's Behind the Samsung Bribery Allegations: QuickTake Q&A
The special prosecutor took issue with that implied criticism. "We judge that there is a difference between the special prosecutor and the court on the legal assessment of the facts for the suspected crime," said Lee Kyu-chul, a spokesman for the prosecutor's office.
While investigators will keep pursuing the case, the prosecutor hasn't decided whether to seek another arrest warrant against Lee, he said. The prosecutor isn't convinced by Lee's claim that he was pressured to make the payments, the spokesman said. Choi Gee-sung, vice chairman of Samsung's corporate strategy office, is now being treated as a suspect instead of a witness due to suspicions of being involved in the bribery, he added.
Some of the evidence prosecutors had reviewed included e-mails from a tablet PC that they believe belongs to Choi Soon-sil, Park's confidante. Prosecutors said last week that one e-mail indicates Choi received funds from Samsung. The court's decision suggests that the messages probably stopped short of saying anything explicit, said Troy Stangarone, senior director for congressional affairs and trade at the Korea Economic Institute of America in Washington.
"This is definitely the outcome Samsung was looking for," Stangarone said. "At this point, now that the court has rejected the arrest warrant, there's no reason to not proceed with the succession."
The Samsung probe is part of a broader investigation into contributions that dozens of Korean companies gave to Choi, the confidant. The scandal has rocked South Korea with millions of people taking to the streets in protest. President Park has been impeached and her powers suspended. A separate constitutional court will determine whether she is ultimately removed from office, another tumultuous chapter for a country that became a full-fledged democracy in 1987.
When he testified at a parliamentary hearing in December, Lee said he never ordered donations to be made in return for preferential measures and rejected allegations he received wrongful government support to push through the merger. Still, Lee, who has been put under a travel ban, confirmed his private meetings with Park and that Samsung had provided a horse worth 1 billion won ($850,000) that was used for equestrian lessons by Choi's daughter.
Before it's here, it's on the Bloomberg Terminal.
LEARN MORE