Mnuchin Deflects Democratic Attack by Defending OneWest Record
By and
Treasury secretary pick counters criticism at Senate hearing

Says outcome would be worse if he hadn't bought failing lender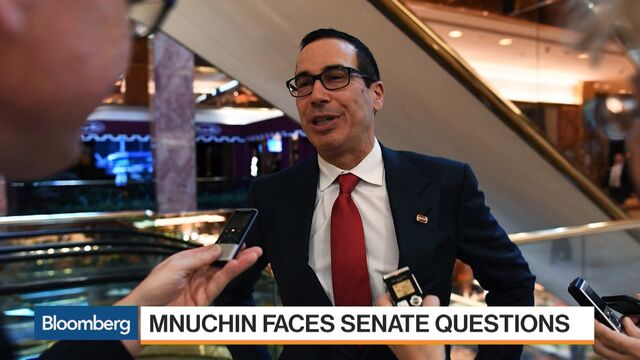 Steven Mnuchin, nominated by President-elect Donald Trump for Treasury secretary, defended his record as an owner of a mortgage lender that was accused of unfair loan and foreclosure practices during the financial crisis.
"Since I was first nominated to serve as Treasury secretary, I have been maligned as taking advantage of others' hardships in order to earn a buck," Mnuchin said in prepared remarks for his Senate Finance Committee confirmation hearing on Thursday obtained by Bloomberg.
"Nothing could be further from the truth," he said.
Mnuchin and a group of investors bought failing IndyMac from the government in 2008. They renamed it OneWest and turned a profit within a year. Mnuchin has described the bank as having one of the worst mortgage portfolios in history when he bought it. He's likely to face intense scrutiny for his involvement in the lender from Senate Democrats seeking to derail his nomination at the hearing, which is taking place a day before Trump's inauguration.
"If we had not bought IndyMac, the bank would likely have been broken up and sold in pieces to private investors, where the outcome for consumers could have been much bleaker," Mnuchin said. "My group had nothing to do with the creation of risky loans in the IndyMac loan portfolios."
'Bad Situation'
Mnuchin said he helped save thousands of jobs by investing in the financial institution when "most investors were running for the hills." OneWest extended more than 100,000 loan modifications to borrowers "to try and help them out of a bad situation," he said. Mnuchin said he used a lawsuit to win the right to push through more loan modifications and worked with Housing and Urban Development, a government agency, and a federal regulator to try to change policies to save senior citizens who were behind on mortgage payments.
"Unfortunately, HUD did not see it my way, and we were forced to foreclose on senior citizens even when they only owed $1," he said. "Not complying with these HUD policies would have subjected the bank to penalties and losses from HUD."
Democrats, who don't have enough votes to block Mnuchin's confirmation on their own, are in a fury over the allegations that OneWest backdated documents to push through rapid foreclosures and ultimately profited from the housing crisis. Senators, including Elizabeth Warren of Massachusetts, are hosting a forum on Capitol Hill in Washington on Wednesday to hear from people whose homes were foreclosed by OneWest while Mnuchin was at the helm.
Mnuchin used most of his opening testimony to, as he put it, "correct the record" about his work at the bank. He also outlines qualifications for the job, such as graduating from Yale University and his 17 years at Goldman Sachs Group Inc., where he says he started on a folding chair in the mortgage department and worked his way up to directly reporting to Hank Paulson, who later became Treasury secretary.
Sanctions, Taxes
In the remarks, Mnuchin didn't clarify his policy views on areas including economic sanctions, tax reform, banking regulations or currency. Should he be confirmed as Treasury secretary, it is through his department that the Trump administration would apply a tougher economic stance with China and any shift in the strong dollar policy.
Democrats will try to use all the ammunition they have to complicate his confirmation. Senator Sherrod Brown of Ohio on Wednesday sent a letter to FBI Director James Comey asking for information about an investigation into Relativity Media LLC, a movie company that Mnuchin helped run and loaned money to via OneWest.
While the optics around Mnuchin's ties to the failed movie studio reveal numerous conflicts of interest, he took appropriate steps to manage them, according to people with knowledge of the matter.
Before it's here, it's on the Bloomberg Terminal.
LEARN MORE