business
Baird Resigns as Premier of Australia's Most-Populous State
By
Shock departure comes after less than three years in the job

Treasurer Gladys Berejiklian says she will seek leadership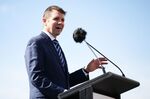 Mike Baird has resigned as leader of Australia's most populous state, New South Wales, after less than three years in the job.
Baird, 48, announced his shock departure Thursday, saying that with the halfway mark of the current parliamentary term approaching, "this is the perfect time" to hand over to a new leader. His Liberal Party will choose a replacement premier next week, at which time Baird will retire from parliament effective immediately, he said in an e-mailed statement.
Baird, who worked at Deutsche Bank AG and HSBC Holdings Plc before entering politics in 2007, led the Liberal-National coalition to victory at the 2015 election, after being selected unopposed by party colleagues in the wake of an anti-corruption investigation that saw his predecessor Barry O'Farrell resign in April 2014. He previously served as state Treasurer and is the son of former state and federal minister Bruce Baird.
"I wanted to go as hard as I could for as long as I could and then step aside," Baird said at a news conference in Sydney. "Today I am making good on that pledge."
Likely Successor 
Current state Treasurer Gladys Berejiklian, considered a frontrunner to replace Baird, said in a statement Thursday that she will put her name forward to head the state government.
"Today is Mike's day, but I would like to make it clear that I will be standing for the leadership," she said.
The 46-year-old is set to win the party ballot, with Dominic Perrottet set to serve as her deputy and treasurer, the Daily Telegraph reported, citing unidentified party sources.
Berejiklian, who entered parliament in 2003, would be the second woman to lead the state. Labor's Kristina Keneally held the spot for 16 months before leading her party to its worst defeat at the 2011 election. Baird declined to endorse a successor, saying the choice of the next leader is "a matter for the party."
Electricity Selloff
Baird has been overseeing the selloff of state electricity assets, a policy that previous governments had failed to implement. The proceeds are being used to fund new roads and public transport and the government has also sought to reduce the state's debt burden in a bid to maintain its top credit rating. Baird said at a news conference in Sydney that infrastructure is a "hallmark" of his government.
The government in October sold a majority stake in Ausgrid for A$16 billion ($12 billion) and in December 2015 raised A$10.3 billion with its partial sale of TransGrid. Expressions of interest for the government's final power asset sale, a stake in Endeavour Energy, were submitted on Monday with a sale expected in the first half of 2017.
Prime Minister and Federal Liberal Party leader Malcolm Turnbull paid tribute to the outgoing state leader on Twitter saying Baird has "set NSW on track to lead and succeed in the 21st century. Great innings magnificently played."
(
Adds comment from Gladys Berejikilian from fifth paragraph.
)
Before it's here, it's on the Bloomberg Terminal.
LEARN MORE