Mexican President's Support Plumbs New Low as Gasoline Soars
By
Reforma poll finds president's approval rating sinks to 12%

Fuel price surge this month has prompted looting, protests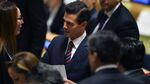 Mexican President Enrique Pena Nieto's approval rating plunged to a record low after the government's raised gasoline prices by the most in two decades, prompting the looting of department stores and near-daily public protests.
Just 12 percent of Mexicans approve of Pena Nieto's performance, the lowest level for any president in two decades of polling going back to the peso crisis of the mid 1990s and down from 24 percent in December, according to the survey by Mexico City-based newspaper Reforma. The poll shows 27 percent of voters favor the opposition Morena party of Andres Manuel Lopez Obrador in next year's presidential election, compared with 24 percent for the conservative National Action Party and only 17 percent for Pena Nieto's Institutional Revolutionary Party.
The Mexico peso led declines among major currencies on Wednesday, falling 1.2 percent to 21.77 in late morning trading in New York.

Unleaded gasoline prices surged 14 percent on Jan. 1, the most since 1998, with premium prices soaring 20 percent, as the government eliminated a subsidy that it said favored the richest Mexicans and was too expensive to continue. The "gasolinazo," or fuel price shock, has been criticized by governors from Pena Nieto's PRI, as well as its rivals. Mexicans trail only South Africans for the percentage of annual income they spend on fuel among 61 nations tracked by Bloomberg.
"The president's drop in approval is without a doubt related to the economy and the increase in gasoline prices," Lorena Becerra, the poll's director, said in a phone interview. "Morena is appearing in first place in terms of preferences for the first time ever. The party is capitalizing on the political damage to the president."
Eighty-two percent of those surveyed had an unfavorable view of Pena Nieto's handling of Latin America's second-largest economy. His popularity is beneath the lowest levels reached by Brazil's Dilma Rousseff, who bottomed out at 15 percent in polls before her impeachment.
The survey of 1,000 Mexican adults was conducted from Jan. 11 to 15th and has a margin of error of 4.2 percent.
— With assistance by Rafael Gayol
Before it's here, it's on the Bloomberg Terminal.
LEARN MORE