This Canadian Mining Darling Finds Gold in Projects No One Wants
By
Klondex Mines outperforms peers with growing mine portfolio

CEO's next move is to turn around two distressed Nevada assets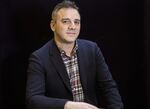 When Paul Andre Huet became chief executive officer of Klondex Mines Ltd. in 2012, he says the Canadian gold miner had just $400,000 in cash, one asset and $7 million in invoices.
"We never declared bankruptcy but on our financials we were literally done," says Huet, who made the leap to the insolvent company from Premier Gold Mines Ltd.
Many might have considered the move career limiting but Huet knew Klondex's sole asset well: Nevada's Fire Creek gold project, having previously studied it for two other mining companies. Confident the deposit was more profitable than it appeared, he took the job, staving off Klondex's creditors and turning Fire Creek into a producing mine in just over a year. Then he doubled down by looking for more assets that other miners shunned.

Five years on, Klondex shares are outperforming its peers while remaining undervalued. The stock has surged 22 percent in the last six months even as gold retreated through the end of 2016. That's made it the top gainer on Toronto's S&P/TSX Composite Gold index over that period.
'Cache Value'
"Klondex was doing well even without any gain in gold price because they were taking on assets that were crappy and showing they could generate cash flow," Barry Allan, senior vice president at Mackie Research Capital Corp., said in a phone interview last week from Toronto. "That's given them a cache value."
Three out of four of the acquisitions Huet has made in the last five years were bought from creditors after the mining companies that originally owned them went bankrupt. The fourth, the Midas mill and mine in Nevada, was sold by Newmont Mining Corp. for about $83 million in 2014. Klondex now has three producing mines and two development projects.
The company's been profitable for nine of the last 10 quarters and Huet says it could produce north of 250,000 ounces of gold equivalent a year in the "very, very near future." Its 2017 guidance is for 210,000 to 225,000 ounces of gold at a cash cost of $680 to $710 per gold equivalent ounce sold, a 37 percent increase over 2016.
The shares fell with gold futures, declining 4.3 percent to C$6.59 in Toronto at 10:09 a.m., giving the company a market value of C$1.15 billion ($866 million).
Mining Family
Huet's mining veins run three generations deep. His grandfather, father and uncles were all underground miners. His first mining job came straight out of high school; he started as a janitor at a mine in Timmins, Ontario. In 1997, while working as a driller, he was accepted into a pilot program that allowed him to pursue a mining degree while still being paid a salary by Kinross Gold Corp. He was 32 when he graduated.
"I know what it's like to drill and blast, and grab a jack leg," he said. "I've done all that for 10 years before I went into management."
Within the mining community he's known for his expertise developing underground mines on narrow, concentrated deposits, such as Fire Creek and Midas. "There's a very short list of people that would take on these narrow-vein high-grade systems, " Allan said. "Not a lot of people are good at mining them."
Doubled Grade
In the case of Midas, which Newmont had deemed non-core to operations when Klondex bought it, Huet says he was able to focus on developing the site in a way a large miner with a thick portfolio of competing assets couldn't. "We managed to sustain the same tonnage every day, from the exact same mine, with half the people," Huet said. "In 12 months we managed to double the grade from what Newmont was doing."
A spokesman for Newmont, Omar Jabara, had no comment.
The True North Gold Mine and mill in Manitoba is another example of an asset where Klondex was able to add value. Since Huet bought the asset from creditors last year, he's been extracting gold from the mine's tailings which he says the previous owner overlooked because of a broken tail sampler. True North's $32 million price tag has already been justified by that alone, Allan says.
The next test for Klondex will be whether it can turn around the Hollister and Aurora projects in Nevada which it recently purchased from Toronto-based private equity firm Waterton Global Resource Management Inc., says Allan, who currently has a hold rating on the stock with a $7 12-month target.
If Huet shows that Klondex can add value to the project, Allan says he'll likely recommend investors buy the stock. Huet says Klondex intends to begin processing ore from Hollister at its Midas mill, just 19 miles away, within six months.
If he succeeds, Klondex could become a takeover target, according to Isser Elishis, chief investment officer at Waterton, which remains a shareholder in the project. Huet is less certain, noting that it would take a "unique company" to acquire Klondex and not watch its assets fail again.
In any case, Huet says he has no plans to leave the company.
"I don't care if somebody offered me four times the salary; I would not leave. You have to remember that I built this thing."