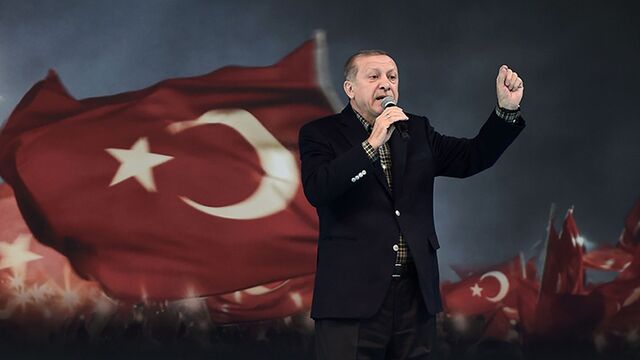 Turkey's voters will get their say April 16 on whether to abolish the job of prime minister and formally switch the center of executive power to the office of President Recep Tayyip Erdogan. Since taking the job in 2014, Erdogan, who'd been the prime minister for 11 years before that, has taken steps to transform what had been a mostly ceremonial post into what his opponents say is becoming the seat of one-man rule. This latest bid to consolidate his legal authority comes during a state of emergency that's seen mass purges of political opponents and journalists following a failed coup attempt in July, and as Turkey wages war against separatist Kurdish groups and Islamic State militants in neighboring Syria.
1. Will voters approve the change?
Polls are split and nothing's guaranteed. Erdogan intensified his campaign in big cities and softened his tone to attract wider support. During a recent rally in Ankara he said that those who vote "no" are equally respectful as those who vote "yes."
2. How are markets responding?
The currency has weakened as nervousness increased in the run-up to the referendum. Turkey's central bank is taking extraordinary steps to support the lira, which dropped to historic lows in January as the economy slumped following the failed coup attempt. Erdogan is discouraging consideration of higher interest rates, which might further crimp economic growth. Deputy Prime Minister Mehmet Simsek says the referendum's completion will remove a last source of political uncertainty, allowing the government to focus on reforms to restore investor confidence, such as improving the quality of education, increasing women's participation in the labor force and encouraging domestic savings.
3. What happens after the vote?
Turkey should prepare for a rapid transition to a presidential system should voters approve the change, Deputy Prime Minister Numan Kurtulmus said in an interview. And if they reject it? Erdogan's senior adviser Mehmet Ucum told Bloomberg that a "no" vote would not shelve the presidential system proposal but rather it could be revised to address voters' concerns.
4. What new powers would Erdogan get?

If voters approve the changes, Erdogan would immediately be able to restore ties with his political party, the ruling AKP; in the current system, the president takes an oath of impartiality. As of Nov. 3, 2019, the date of the next scheduled presidential election, the president would be anointed head of the executive branch. He or she would have the power to issue decrees with the force of law, prepare the budget, dissolve parliament on the condition that new elections be held for the presidency and parliament simultaneously, and appoint high-level officials, including ministers and some top judges. While martial law would no longer exist, the president would be able to declare a similar state of emergency, giving authorities powers to restrict basic rights and freedoms.
5. How long could a president serve?
Two consecutive five-year terms. If, however, snap elections are called by parliament during a president's second term, then he or she could seek a third term.
6. What would parliament's role be in the new system?
Parliament would have limited oversight over the executive branch. It would have 600 members, up from 550. A supermajority of at least 360 votes would be required to open an investigation of the president, his deputies or ministers. In the event of a probe, the president wouldn't be allowed to call for elections. With 400 votes, the parliament could refer a case against the president to the country's top court. The parliament could shorten, extend or lift a state of emergency.
7. What other changes are proposed?

Parliamentary and presidential elections would be scheduled for the same time every five years. Currently, the president is elected every five years, while parliamentary elections are held every four years. The minimum age to seek office would be lowered to 18 from 25. The high military judiciary would be abolished, and military courts would be restricted to handling disciplinary cases.
The Reference Shelf
Before it's here, it's on the Bloomberg Terminal.
LEARN MORE