Goldman Earnings Climb as Bond Trading Beats Expectations
By
Fixed-income trading revenue jumps 78%, equities decline

Annual revenue of $30.6 billion was lowest in five years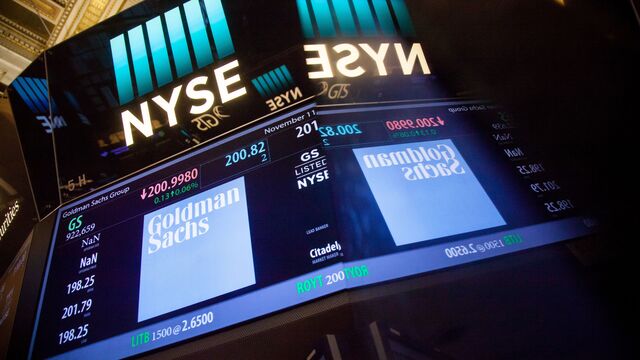 Goldman Sachs Group Inc. reported fourth-quarter earnings that beat analysts' estimates on a surge in bond-trading revenue as Donald Trump's surprise victory fueled speculation economic growth will accelerate.
Net income rose to $2.35 billion, or $5.08 a share, from $765 million, or $1.27 a year earlier, when the lender set aside $1.54 billion to pay a mortgage settlement, the New York-based company said in a statement Wednesday. Earnings excluding litigation and charity-related items were $5.48 a share, topping the $4.84 estimate of analysts surveyed by Bloomberg.

Chief Executive Officer Lloyd Blankfein, 62, has been cutting costs and firing workers to weather a trading slump blamed on stricter regulations after the financial crisis. Investors and analysts are speculating that Goldman Sachs's trading operations could be one of the biggest beneficiaries of Trump's policies, which may include looser regulations and pro-growth economic policies.
"After a challenging first half, the firm performed well for the remainder of the year as the operating environment improved," Blankfein said in the statement.
Net revenue in the quarter increased 12 percent to $8.17 billion, compared with the $7.76 billion estimate. For all of 2016, it was $30.6 billion, the lowest in five years.
Operating expenses dropped 23 percent to $4.77 billion, but were still higher than the $4.48 billion estimate of eight analysts surveyed by Bloomberg. Expenses for the year were $20.3 billion, the lowest since 2008.
The compensation ratio, which compares pay to revenue, was 38.1 percent for 2016, up from 37.5 percent a year earlier. Return on equity, a gauge of profitability, was 9.4 percent for 2016.
Shares of the company, which have surged 30 percent since the election, climbed 0.5 percent to $236.94 in early trading in New York at 7:56 a.m.
Bond Trading
Fixed-income trading revenue rose 78 percent to $2 billion, exceeding the $1.59 billion estimate of analysts surveyed by Bloomberg. Equity-trading revenue fell 9.2 percent to $1.59 billion. That compares with the $1.62 billion average analyst estimate. The sales-and-trading division is overseen by Isabelle Ealet, Ashok Varadhan and Pablo Salame, who added the title of vice chairman last month.
Citigroup Inc. also reported fourth-quarter results Wednesday, posting a 7.1 percent profit increase as trading revenue jumped 31 percent. Trading also helped Morgan Stanley's results. The firm said Tuesday that revenue from trading bonds more than doubled and that net income surged 83 percent. JPMorgan Chase & Co., the biggest U.S. bank, said last week that fourth-quarter profit rose 24 percent on fixed-income gains.
Goldman Sachs's revenue from investment banking declined 3.9 percent to $1.49 billion, beating the $1.47 billion estimate of analysts as bond underwriting rose 28 percent in the quarter and reached a record $2.45 billion for the year. The unit is run by John Waldron and Richard Gnodde, also named vice chairman last month in a series of personnel changes sparked by President Gary Cohn's exit in December to join the Trump administration. A third co-head, David Solomon, became co-president in the shuffle.
Revenue from investment management, run by Tim O'Neill and Eric Lane, rose 3.4 percent to $1.61 billion, while the investing and lending division, which houses the firm's debt and equity stakes, posted a 15 percent increase in revenue to $1.48 billion. The business includes revenue from Goldman Sachs's special-situations unit, whose chief, Julian Salisbury, was named this month to the firm's management committee.
New Leadership
The fourth quarter was the last at Goldman Sachs for Cohn, who served as Blankfein's No. 2 for a decade before deciding to join Trump as the president-elect's top economic adviser. Blankfein named Chief Financial Officer Harvey Schwartz and Solomon to replace Cohn as co-presidents.
Cohn is just one of several alumni slated for a job in the administration. Steven Mnuchin, nominated to run the Treasury Department, spent 17 years at the investment bank, and Steve Bannon, chief strategist, also worked at Goldman Sachs. Dina Powell, head of the firm's philanthropic arm, was named an assistant to the president, while Jim Donovan, a wealth manager, may also join the administration.