Mnuchin May Offer Clues on U.S. Dollar Policy at Senate Hearing
By and
Traders to hang on every word uttered about a 'strong dollar'

Treasury nominee faces China FX, Fannie and Freddie questions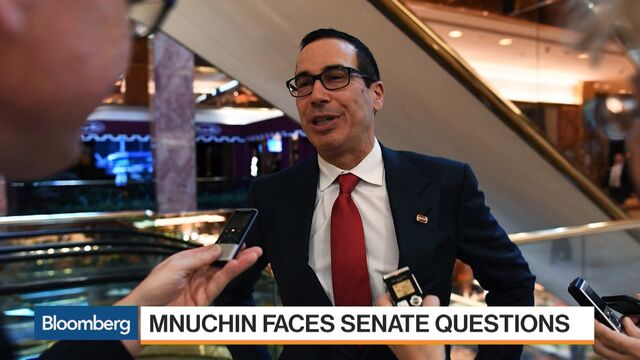 Steven Mnuchin has finally come out to defend the thorniest issue about his nomination: His record running OneWest Bank. Now, he will face 26 U.S. senators in a public hearing seeking clarity on his policy views as he interviews for the job of Treasury secretary.
The Senate Finance Committee hearing on Thursday, which kicks off at 10 a.m. in Washington, will be "contentious and downright uncomfortable," said Isaac Boltansky, policy analyst at Compass Point Research & Trading LLC. Democrats have promised an ugly fight that the Republican majority and Mnuchin will likely win to secure the former Goldman Sachs Group Inc. partner's confirmation.
Heading into the session, Mnuchin, 54, faces questions about his time at OneWest, when he made millions off of the 2008-09 housing crisis. While his management is seemingly murky, he used his prepared testimony before the Senate to tell his side of the story: He salvaged thousands of jobs and fought the government to change policies to save the homes of seniors, and lost.
Here are some other key issues to listen for during Mnuchin's hearing:
1. Does he believe in a strong dollar?
The strong-dollar policy has been a mantra of Treasury chiefs for more than two decades, underpinned by the notion that the currency's level should reflect economic fundamentals. The problem is, the U.S. economy's strength has lifted the buck to new heights since the November election, an upswing that hurts U.S. exporters. While Trump has signaled he may break with decades of allegiance to the policy, his Treasury secretary nominee hasn't clarified the position, so markets will hang on Mnuchin's every utterance.
2. Is China manipulating its currency?
Trump has walked back from his pledge to label China a currency manipulator on day one of the administration, but not from his comments that the nation is up to no good when it comes to the yuan. As the Trump administration ushers in a new era of U.S.-China economic relations, anything Mnuchin says on the subject may move markets.
Here's where Mnuchin may actually find some allies among Democrats. Lawmakers from both parties have pursued recourse against China through a Treasury Department panel that reviews foreign takeovers of American companies. How Mnuchin would strengthen the U.S.'s posture toward its economic relationship with China will have global impact.
3. What's up with his Fannie and Freddie holdings?

Among the more curious revelations in any of the Trump nominees' financial disclosures is that Mnuchin may have, perhaps unknowingly, benefited on Nov. 30 when his comments moved Fannie Mae and Freddie Mac shares. His remarks, that as Treasury chief he would restructure the mortgage-finance giants, sent their shares soaring. His disclosures, released last week, show that he has invested as much as $2 million in Paulson Advantage LP, which holds a stake in Fannie and Freddie.
It isn't the first time a Treasury secretary nominee inadvertently moved markets. Learning the power of your words as a policy maker is a trial-and-error process.
4. What exactly do you mean by 'reform'?
Little is known about where Mnuchin stands on issues such as banking regulations, mortgage finance or tax polices, all of which the incoming administration has vowed to reform or even "dismantle." Democrats are already promising a tough fight to keep the Consumer Financial Protection Bureau, which grew out of the Treasury Department after the financial crisis.
As Treasury chief, Mnuchin will chair the Financial Stability Oversight Council, a panel of regulators set up after the financial crisis, and is expected to play a leading role in the new administration's tax-cutting agenda. Clarity from Mnuchin on regulation and the Trump tax plan will help shed light on how the incoming administration plans to double U.S. economic growth.
5. What about the Treasuries market?

Should he get the job, Mnuchin will be in charge of the world's deepest, most liquid debt market that's undergoing an evolution. Awaiting him is the dawn of high-speed trading that has tested market resiliency and spiked volatility, baffling investors, the Federal Reserve and Treasury officials across the globe. Some investors expect more turbulence ahead. The $13.9 trillion Treasuries market is now more than double the size it was during the last presidential transition.
That backdrop raises the stakes for the new Treasury chief to not surprise investors because any market reaction could be swift and out-sized.
— With assistance by Enda Curran
Before it's here, it's on the Bloomberg Terminal.
LEARN MORE