Citigroup Trading Revenue Climbs 31% as Profit Beats Estimates
By
Fourth-quarter net income increases 7.1% to $3.57 billion

Fixed-income trading revenue highest since financial crisis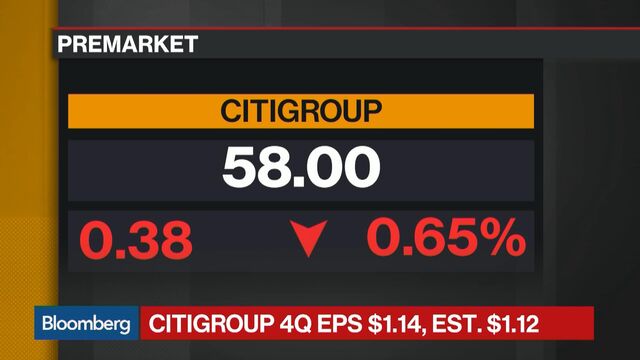 Citigroup Inc. reported fourth-quarter profit that surpassed analysts' estimates as trading revenue jumped 31 percent, more than the bank had forecast last month.
Net income rose 7.1 percent to $3.57 billion, or $1.14 a share, from $3.34 billion, or $1.02, a year earlier, the New York-based company said Wednesday in a statement. The average estimate of 25 analysts surveyed by Bloomberg was for adjusted earnings of $1.12 a share.

Citigroup follows rivals JPMorgan Chase & Co. and Morgan Stanley in posting a jump in revenue from helping clients trade in the months surrounding Donald Trump's surprise election win in November. Chief Executive Officer Michael Corbat, 56, also has been restructuring the firm and whittling costs as he seeks to improve profitability and return more capital to shareholders.
FICC Trading
The bank's traders handling bonds, currencies and commodities generated $3.01 billion in the quarter, 36 percent more than a year earlier, excluding an accounting adjustment from that period. Their fourth-quarter revenue was the highest since before the financial crisis, according to data compiled by Bloomberg, and better than the $2.83 billion estimated by analysts.
Revenue from equities trading, an area the bank has targeted for an additional $1 billion in annual revenue, rose 15 percent to $694 million. That was just short of the $708 million estimated by analysts.
Combined, trading revenue rose 31 percent to $3.7 billion. Chief Financial Officer John Gerspach had predicted Dec. 7 that it would rise about 20 percent in the quarter from a year earlier.
Companywide revenue fell 8 percent to $17 billion, missing analysts' $17.3 billion estimate, as revenue tumbled 79 percent to $657 million in Citi Holdings, a unit housing operations and assets tagged for disposal. Operating expenses also declined 9 percent, to $10.1 billion, just below analysts' $10.2 billion estimate.
Citi Holdings
Citi Holdings still eked out an $87 million profit. Gerspach had said last month that he was expecting a "modest loss" at that unit. The bank has said it will stop breaking out Citi Holdings' results in financial reports this year after its assets -- $54 billion at year-end -- shrank to become a relatively small part of the company's total balance sheet.
U.S. bank stocks surged in the final weeks of 2016 as investors speculated that Trump's policies will lead to higher interest rates, looser regulation and lower taxes. The KBW Bank Index climbed 20 percent from the Nov. 8 vote through Tuesday, with Citigroup rising 17 percent.
Trump's victory and the Federal Reserve's December interest-rate hike already have burnished Wall Street earnings by spurring clients to reposition stock and bond portfolios and react to currency swings.
Trading, merger advice and securities underwriting helped boost revenue in the institutional clients group by 14 percent to $8.34 billion. Net income in that division, run by President Jamie Forese, rose 97 percent to $2.47 billion, helped in part by lower credit costs.
Investment Bank
Investment-banking revenue was unchanged at $1.13 billion, beating the $1.02 billion average estimate of analysts.
Revenue from the consumer banking division, run by Stephen Bird, rose 2 percent to $8.03 billion. The bank has been spending money to increase revenue, committing to invest $1 billion in Mexico, and expanding the credit-card business. Last year, the bank brought Costco Wholesale Corp. customers on board in what the company has hailed as a key growth initiative.
In December, the bank said one of Bird's key lieutenants, Jonathan Larsen, had resigned for personal reasons. Calling Larsen's oversight of retail banking and mortgages a "critical role," the bank said in an internal memo dated Dec. 9 that it had yet to choose a replacement.
Citigroup was the last of the six biggest U.S. banks to report results. Earlier Wednesday, Goldman Sachs Group Inc. said fourth-quarter earnings more than tripled to $2.35 billion as the fixed-income business got a boost from speculation economic growth will accelerate. In previous days, JPMorgan, Morgan Stanley and Bank of America Corp. all said profits rose in the quarter, helped by stronger bond trading. Wells Fargo & Co. said net income dropped 5.4 percent as mortgage revenue declined.
— With assistance by Marcus Wright
Before it's here, it's on the Bloomberg Terminal.
LEARN MORE