China Soccer Pioneer Calls for Rational Signings to Avoid Bubble
Bloomberg News
Government criticism of spending triggered abrupt rule change

Chinese teams have paid record amounts to import global stars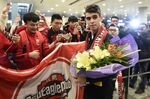 Days after China abruptly began scrutinizing the recruitment of foreign players into the country's dominant Super League, one of the most influential men in Chinese soccer cautioned the industry not to overreact to the rules by turning their backs on overseas athletes altogether.
"I don't hope things suddenly move to another extreme," CMC Holdings Co. Chairman Li Ruigang, whose firm backed the record $1.2 billion purchase of the Super League's broadcasting rights, said in an interview at the World Economic Forum in Davos, Switzerland. "China needs international talents to bring skills, boost the ratings, popularity of the games, make the games more attractive."

Chinese teams, backed by the country's rich, have shaken up the global market for soccer talent by bidding up contracts. The Shanghai Shenua team reportedly agreed to pay 32-year-old Carlos Tevez 40 million euros ($42 million) a season, making him the world's best-paid soccer player even though he's nearing the end of his playing career. That news came shortly after another of the city's clubs paid London's Chelsea a fee of $75 million to bring over Brazilian reserve midfielder, Oscar.
Outside of China, teams have complained about how such deals are inflating the market for talent, and last month, the Communist Party's flagship People's Daily newspaper chimed in with an editorial pointing out that 80 percent of the 4.1 billion yuan spent by the country's top division teams last season went toward foreign coaches and players. 
Then came Jan. 5, when China's Sports General Administration announced it would "regulate and restrain high-priced signings, and make reasonable restrictions on players' high incomes." In response, Super League officials announced clubs would be limited to playing three foreign players, down from four previously.
Also under the new regulations, the league scrapped the rights for teams to use a player from Asia in addition to the overseas quota. Teams must also now field at least one player under the age of 23.
Shanghai SIPG coach Andre Villas Boas, whose team was among the most active in the transfer window, balked at the new rules as they've disrupted preparation for the new season.
"Such a huge change shouldn't be announced about a month before the new season," Villas-Boas said during a press conference at his team's training camp in Qatar. "Most of the clubs' team-building plans have been in accordance with the previous rules. That's when everyone gets caught off guard."
As to Li, he called for a more balanced approach to scouting foreign talent.
"I think China's soccer market should be more thoughtful and sophisticated. Buying talents at such high price is not reasonable," Li said. "It's not good for local soccer market or the global market. It disrupts the pricing."
CMC Holdings, an affiliate of China Media Capital, last year paid 8 billion yuan ($1.2 billion) for five years of domestic television rights to Chinese soccer, or 100 times the league's previous 80 million yuan-per-season agreement. The company also lead a group that spent $400 million to buy a 13 percent stake in Manchester City, a few months after President Xi Jinping visited the English Premier League club in 2015.
— With assistance by Jacqueline Simmons, Jeanne Yang, and Tariq Panja
Before it's here, it's on the Bloomberg Terminal.
LEARN MORE