China's Holdings of U.S. Treasuries Drop by Most Since 2011
by and
PBOC is burning through currency reserves to support the yuan

No. 1 holder Japan also reduced Treasuries in its portfolio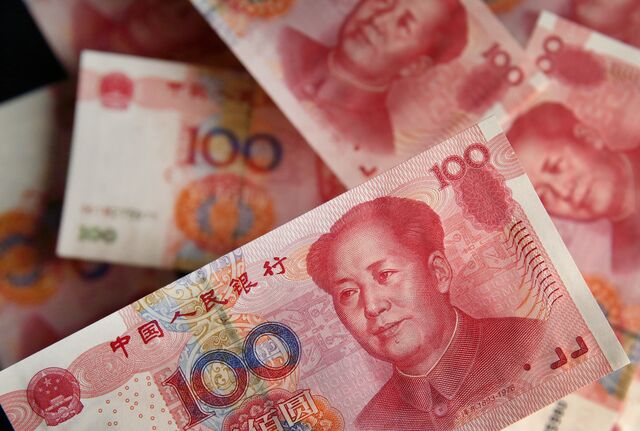 China's holdings of U.S. Treasuries declined in November for a sixth straight month, as the world's second-largest economy uses its foreign-exchange reserves to support the yuan. Japan's holdings also dropped but the country kept its spot as America's largest foreign creditor.
A monthly Treasury Department report released in Washington on Wednesday showed China held $1.05 trillion in U.S. government bonds, notes and bills in November, a drop of $66.4 billion from the prior month that was the steepest since December 2011. Japan's portfolio decreased for fourth consecutive month, falling by $23.3 billion to $1.11 trillion, according to the data.
The People's Bank of China, owner of the world's biggest foreign-exchange reserves, has burned through a quarter of its war chest since 2014. U.S. Treasury data show the country has dumped about $270 billion of U.S. government debt since its holdings peaked at $1.32 trillion in 2013 and is using the funds to underpin the yuan and stem capital outflows.
"I'm not surprised since China's reserves are shrinking -- they are selling Treasuries to prevent the yuan from weakening too much," said Priya Misra, the head of global rate strategy at TD Securities. "The foreign buyers of Treasuries have been foreign private investors -- mostly Japanese lifers -- but that flow also slowed down by year end due to the cost of hedging."
Foreign holdings of U.S. Treasury debt totaled $5.94 trillion, a drop of $96.1 billion from the previous month, the report showed. That was the lowest since 2014.
The report, which also contains data on international capital flows, showed net foreign buying of long-term securities totaling $30.8 billion in November after a revised inflow of $9.3 billion a month earlier.
Before it's here, it's on the Bloomberg Terminal.
LEARN MORE