Biden Takes Aim at Putin in Final 48 Hours as Vice President
By and
Vice president speaks at World Economic Forum in Davos

Russia working to disrupt the European project, Biden says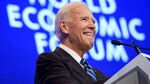 Joe Biden, in his final 48 hours as vice president, took aim at Russian President Vladimir Putin, who he said was actively working to undermine the European project with cyber-attacks and misinformation.
Speaking in Davos, Switzerland, Biden said he wasn't going to "mince words" in what he described as a call to action. The NATO alliance is a "bulwark" for the transatlantic partnership, he said.
"Under President Putin, Russia is working with every tool available to them, to whittle away at the edges of the European project, test the fault lines among western nations and return to politics defined by spheres of influence," Biden said.
He accused Russia of using energy as a weapon, empowering oligarchs to coerce politicians, carrying out cyber-attacks and seeking to "roll back the decades of progress."
"We see it in the aggression against their neighbors, sending in so-called little green men across borders to stir violence," Biden said, referring to violence in eastern Ukraine.
His comments to the World Economic Forum came just three days after President-elect Donald Trump called NATO obsolete. Biden countered the view.
"It is a sacred obligation that we have embraced that an attack on one is an attack on all," Biden said on Wednesday. "That can never be placed in question."
NATO 'Has Problems'
Trump, in an hourlong discussion with Germany's Bild newspaper published Sunday, said NATO "has problems'' and warned that member countries were not fulfilling their financial obligations. He said he was interested in making "good deals with Russia.''
The president-elect floated the idea of lifting sanctions that were imposed as the U.S. has sought to punish the Kremlin for its annexation of Crimea in 2014 and military support of the Syrian government.
The interview sparked concern across European capitals, as Trump said he would begin his presidency by trusting both Putin and German Chancellor Angela Merkel, and predicted additional countries would leave the European Union.
In a November interview with the New York Times, Trump said if Russia moved against one of NATO's Baltic members, he'd come to their aid only after reviewing whether they have "fulfilled their obligations to us."
In his speech at Davos, Biden described Russia as the principle threat to the liberal international order, accusing the country of seeking to undermine democratic institutions across Europe and in the U.S. He warned that Russia would likely meddle in upcoming elections across Europe this year.
Trump, who has aligned himself with many of the opposition party figures in Europe, has repeatedly declined to criticize Russia, and said recently it would be an "asset" if Putin liked him.
While Biden did not mention Trump by name in his speech, he made references to many of the concerns the White House has outlined about the president-elect in recent months.
"As we have seen time and again throughout history, demagogues and autocrats have emerged -- seeking to capitalize on people's insecurities," Biden said, according to prepared remarks. "The impulse to hunker down, shut the gates, build walls, and exit at this moment is precisely the wrong answer."