AT&T CEO Plans CNN Expansion Despite Trump Animosity for Network
By and
Trump meeting focused on jobs, taxes -- not merger, CEO says

Stephenson says DOJ review to show deal is 'pro-competitive'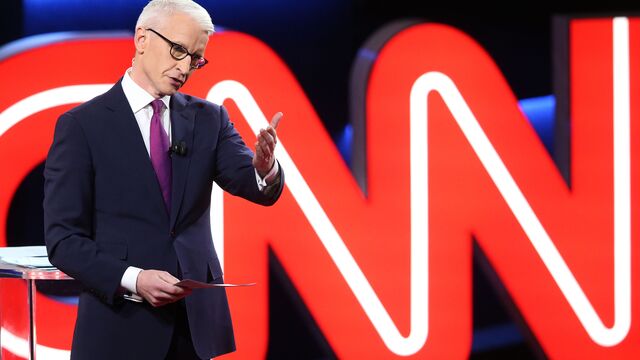 AT&T Inc. Chief Executive Officer Randall Stephenson said CNN is ripe for expansion into social media and mobile, and he wouldn't consider a divestiture to win approval of his company's $85.4 billion merger with Time Warner Inc. despite President-Elect Donald Trump's problems with the news network.
Trump has said he opposes the deal, and it's unclear how much of his motivation stems from his animosity for Time Warner-controlled CNN. But Stephenson said the news network is "a great business" and one of the key brands that can help AT&T transition to a media powerhouse, seeking to produce some of the world's most popular shows and movies.
"CNN is unique," Stephenson said in an interview Wednesday with Bloomberg Television at the World Economic Forum in Davos, Switzerland. "They have a lot of content with Time Warner that we think can be innovated and be used to change the business model in the media entertainment business. That's what this deal is all about."
Stephenson, along with Bob Quinn, AT&T's head of external and legislative affairs, met with Trump for about 40 minutes last week in New York. The discussion with Trump was about increasing investment and jobs and his proposals on tax reform, not about the Time Warner deal, which is being assessed by the Department of Justice, Stephenson said.
"When a deal is under review by an independent agency, it is prudent to not have a talk about the deal with the incoming president," Stephenson said. He added that his confidence level on closing the deal is "very high."
Trump's options as president to block the merger are limited, especially if AT&T can avoid a review by the Federal Communications Commission by not acquiring wireless licenses Time Warner holds. The Justice Department could sue to stop the transaction, but it would have to convince the courts that the deal would threaten competition. That could be tough because AT&T isn't buying a direct competitor.
"By the letter of the law, this deal should be approved," he said. "I think the facts will show that this is a pro-competitive merger."
Investors remain skeptical that the deal will clear regulatory hurdles. Time Warner shares closed at $94.87 Tuesday, about a 12 percent discount to the $107.50 sale price.
Before it's here, it's on the Bloomberg Terminal.
LEARN MORE