politics
U.S. Must Confront Russian Aggression, Departing UN Envoy Says
By
Power says world faces 'forces of authoritarism and nihilism'

Trump's pick for UN ambassador has Senate hearing Wednesday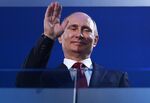 The U.S. must confront Russian aggression just as it took on fascism and Communism in earlier decades, U.S. Ambassador to the United Nations Samantha Power said in a farewell address.
Power called steps taken by Russia under President Vladimir Putin a "major threat" aimed at undermining the international order created after World War II. She cited Moscow's actions in Ukraine, military aid to besieged Syrian leader Bashar al-Assad, cyberattacks to undermine the governments of Germany and Montenegro and hacking during last year's U.S. presidential election.
"The Kremlin's aim is to convince our people that the system is rigged; that all facts are relative; that ordinary people who try to improve their communities and their country are wasting their time," Power, 46, said in a speech Tuesday to the Atlantic Council in Washington. "This is what we are fighting against. Having defeated the forces of fascism and communism, we now confront the forces of authoritarianism and nihilism."
Haley's Hearing
Power's comments come as governments from Europe to Asia prepare for shifting policies under President-elect Donald Trump, who takes office Jan. 20. Trump has signaled a willingness to look past disagreements with Russia over issues such as Ukraine in exchange for a stronger alliance fighting terrorism, and he's raised alarm in Western Europe over questions about his commitment to the North Atlantic Treaty Organization.
Although Russia and the U.S. cooperated to complete the Iran nuclear deal in 2015 and helped select the new UN Secretary-General Antonio Guterres last year, Power said that doesn't mask major differences between the former Cold War rivals.
Trump's pick for UN ambassador, South Carolina Governor Nikki Haley, faces her confirmation hearing before the Senate Foreign Relations Committee on Wednesday. She's expected to face heavy questioning about anti-Israel bias at the UN, weeks after the Obama administration's abstention allowed passage of a Security Council vote criticizing the country for its settlements policy in the West Bank.
The Security Council vote has prompted efforts in Congress to pass legislation reducing U.S. support to the UN. In a Twitter post last month, Trump said, "The United Nations has such great potential but right now it is just a club for people to get together, talk and have a good time. So sad!"
Before it's here, it's on the Bloomberg Terminal.
LEARN MORE