Banks Lead U.S. Stock Declines as Dollar Weakens, VIX Jumps
by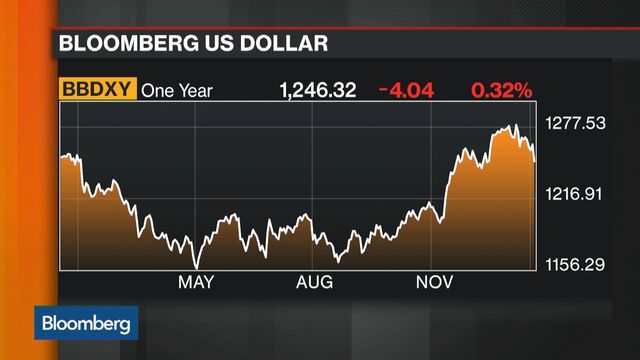 U.S. stocks fell as markets reopened after Monday's holiday as financial and industrial shares declined and the U.S. dollar had its biggest single-day loss since July.
The S&P 500 Index dropped 0.3 percent to 2,267 at 4 p.m. in New York and the Dow Jones Industrials lost 0.3 percent to 19,827. The CBOE Volatility Index jumped 5.6 percent after reaching its lowest since July 2014 on Friday.
U.S. dollar weakened as traders considered whether Trump's comments in an interview with the Wall Street Journal refer to the broad dollar basket or only against the yuan
Financials led S&P 500 lower, down 2.3% after key earnings and as Trump reflation trade ebbs; utility shares up 1.2% and consumer staples shares add 1.4%
10-Year Treasury yield down 7 basis points to 2.325
VIX climbed 5.8% for biggest one-day gain since Dec. 28
Tech companies decline 0.4%, led by loss of 4% in Qualcomm as Bloomberg reports U.S. antitrust officials are poised to sue
Health care stocks down 0.5% after dropping as much as 1.3% in early trading
Morgan Stanley down 3.8% after paring pre-market gains following 4Q earnings
Analysts estimate profit at S&P 500 companies rose 4.3 percent in the fourth quarter of 2016, and will jump 12 percent this year
EARNINGS: 

After-market: CSX (CSX), Interactive Brokers (IBKR), United (UAL), Fulton Financial (FULT), Linear Technology (LLTC), Hancock Holding (HBHC), Renasant (RNST), Pinnacle Financial (PNFP), ADTRAN (ADTN)
Earnings pre-market Wednesday: US Bancorp (USB), Fastenal (FAST), Commerce Bancshares (CBSH), TD Ameritrade (AMTD), Goldman Sachs (GS), Northern Trust (NTRS), Citigroup (C ), Charles Schwab (SCHW)
For related equity market news:
Before it's here, it's on the Bloomberg Terminal.
LEARN MORE