Rain Forecast for Inauguration Day
by
Rain and temperatures around 45 degrees forecast for D.C.

Saturday will be warmer and dry as protesters hit the streets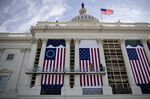 It's going to rain on Donald Trump's parade.
About the time Trump raises his right hand Friday at noon to take the oath of office as the 45th U.S. president, rain will start to fall across Washington with temperatures around 45 degrees Fahrenheit (7 Celsius), said Kevin Witt, a National Weather Service meteorologist in Sterling, Virginia. Conditions will improve Saturday when hundreds of thousands are expected at protests around the city.
As January inaugurations go, Trump's will be a bit warmer and a little wetter than normal, according to weather service records. The average high for the day is 43 with noontime temperatures around 37 under partly cloudy skies.
"It's going to be a raw day," said Paul Walker, a meteorologist with AccuWeather Inc. in State College, Pennsylvania. "It's going to feel like the upper 30s, low 40s with that rain."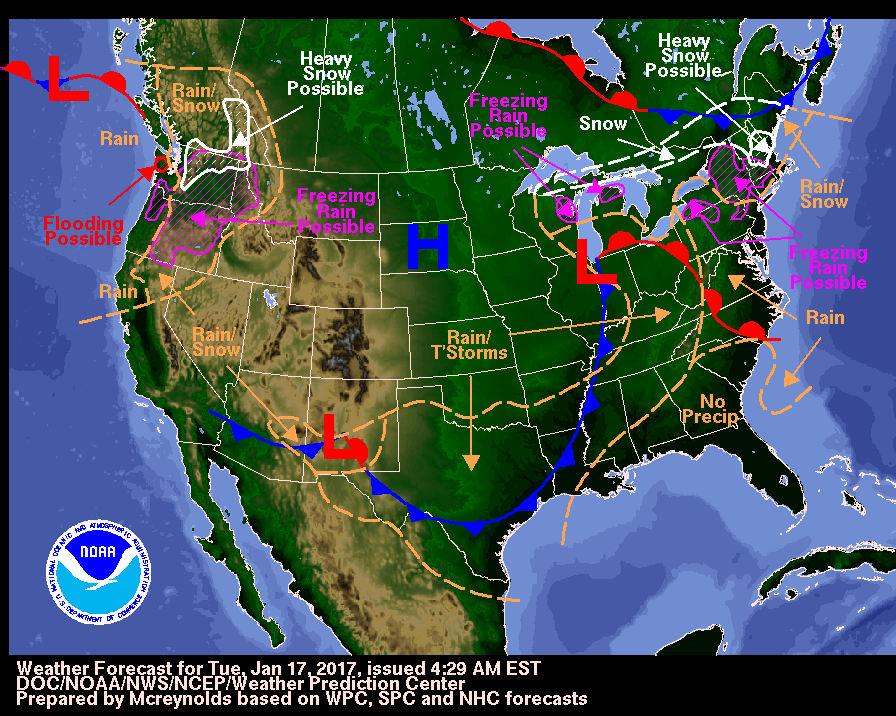 The first January inauguration was a washout when 1.77 inches (4.5 centimeters) of rain fell on Franklin Delano Roosevelt's ceremony. It was probably enough to make a few people question the wisdom of moving the event from March.
Still, March can always pitch a surprise. On the morning of Ulysses S. Grant's second inauguration on March 4, 1873, Washington was an icy 4 degrees. By noon, the mercury climbed to about 20. Several Cadets and Midshipman standing on the National Mall without overcoats collapsed in the cold. Winds gusted to 40 mph and few heard Grant's speech including people on the platform with him. It was the coldest March swearing in and the coldest March day on record in Washington.
Reagan Records
Ronald Reagan holds the record for the warmest and the coldest January inaugurations. While the temperature for his first swearing-in in 1981 hit 55 degrees, conditions were a frigid 7 when he took the oath again in 1985, according to the weather service's website. The ceremony had to be moved indoors and the parade was canceled.
Gerald Ford enjoyed the all-time warmest ceremony when he took the oath in August 1974 following the resignation of Richard Nixon. The high hit 89 degrees that day.
Rain will probably start to clear out Friday afternoon with temperatures falling to about 40 in the evening around the time inaugural balls begin.
Conditions will improve by Saturday when an estimated 200,000 people are expected to take part in the Women's March on Washington that kicks off with a 10 a.m. rally near the U.S. Capital. The high temperature should reach 54 degrees under mostly cloudy skies with sun breaking through later in the day, Witt said. Walker said the readings could get as high as 57.
"There is no chance of rain except up in Maryland and eastern West Virginia," Witt said.
Before it's here, it's on the Bloomberg Terminal.
LEARN MORE