Scaramucci's SkyBridge to Be Sold to HNA, RON Transatlantic
by and
HNA Group has been on acquisition spree for U.S. assets

Deal values SkyBridge at about $200 million to $230 million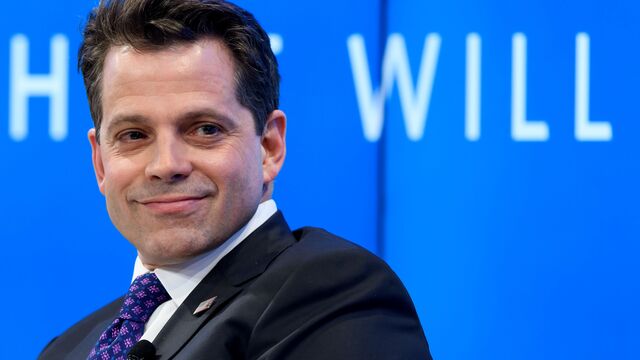 SkyBridge Capital, the investment firm founded by incoming White House adviser Anthony Scaramucci, agreed to sell a majority stake of itself to Chinese billionaire Chen Feng's HNA Group Co. and RON Transatlantic EG.
While financial terms weren't disclosed, the deal includes the SkyBridge Alternatives Conference, or SALT, which is valued at about $200 million, and could increase to about $230 million if certain conditions are met, according to people familiar with the matter. SkyBridge's senior management and investment teams will remain intact while Scaramucci will step down.
Scaramucci, who started his fund-of-hedge funds firm in 2005, made the deal as the industry bleeds assets and he prepares to work for President-elect Donald Trump. For Chen, the investment builds on his logistics-to-leisure group's acquisition spree after announcing or completing $30 billion of deals last year.
Chen's closely held group will make the investment via HNA Capital, which has ambitions of becoming a global investment bank and financial-services provider. RON Transatlantic is a holding company with interests in financial services, logistics, energy and brewing, according to the statement.
An entity called RON Transatlantic Offshore Ltd. already owns more than 5 percent and less than 10 percent of SkyBridge, according to a regulatory filing last year. That entity was more than 75 percent owned by a vehicle called Prowes Holding, which was, in turn, majority-owned by Danilo Diazgranados Manglano, according to the filing. Rich Myers, a RON Transatlantic spokesman, declined to comment on the firm's ownership.
"SkyBridge and SALT are in great hands and will continue to thrive," Scaramucci said in the SkyBridge statement.
SALT, a glitzy affair that draws about 2,000 hedge-fund industry attendees each year, will be spun out as a standalone entity. SALT will be owned by Victor Oviedo, head of business development at SkyBridge, and Kelly O'Connor, a director of business development, according to another person briefed on the matter.
Chen's Ambition
Scaramucci owns about 45 percent of SkyBridge. He will no longer be affiliated with the firm or SALT, according to a Tuesday statement. Australian investment firm Challenger Ltd. also owns a stake, according to a filing, as does SkyBridge's Chief Investment Officer Raymond Nolte.  
Scaramucci has been named an assistant to the president. He told Bloomberg Television Tuesday that he will serve as a liaison between the White House and the business community, and work with local, state and foreign governments and trade associations.
The deal comes just a week after HNA agreed to buy assets from Australia & New Zealand Banking Group Ltd. Last year, the group disclosed multi-billion dollars deals for Hilton Worldwide Holdings Inc., CIT Group Inc.'s aircraft leasing business and Ingram Micro Inc.
For Chen, 63, who two decades ago used to push refreshment trolleys up and down the aisle of the lone Boeing 737 that comprised his startup airline, the SkyBridge acquisition is part of his ambition to make HNA one of the world's top 100 companies by the end of this decade. In 1995, Chen flew to New York and persuaded George Soros to invest $25 million in his fledgling Hainan Airlines Co.
Trump and China
The U.S.-China deal comes as Trump stokes tensions with China by deriding its trading and currency policies as unfair and harmful to the U.S. At the World Economic Forum Tuesday, Chinese President Xi Jinping cautioned against the kind of protectionism advocated by Trump, saying "No one is a winner in a trade war."
SkyBridge parcels out client money to hedge funds including Marathon Asset Management and York Capital Management. Firms like SkyBridge have lost their luster since the global financial crisis as investors bypassed them to invest directly in hedge funds. The fund-of-funds industry manages about $636 billion in assets, down from its 2007 peak of $799 billion, according to Hedge Fund Research Inc. They returned about 0.48 percent last year. SkyBridge managed $9.2 billion in assets as of last January.
Before it's here, it's on the Bloomberg Terminal.
LEARN MORE