markets
Oil Bosses in Davos See Shale Rebound Capping 2017 Price Surge
By
Entering a period of greater oil-price volatility: IEA Chief

Shale increasing even at $50 oil price, Saudi's Al-Falih says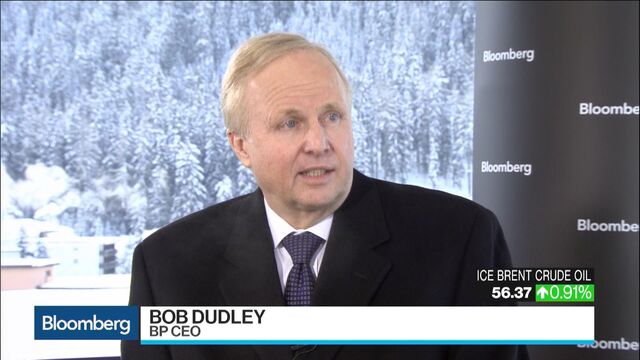 Top oil industry officials in Davos aren't turning completely bullish just yet. Capping their enthusiasm is U.S. shale oil, which is likely to limit price increases and usher in a period of greater volatility.
U.S. supply is already returning at $50 a barrel, Saudi Arabia Energy Minister Khalid Al-Falih and BP Plc Chief Executive Officer Bob Dudley said in Davos, Switzerland, on Tuesday. Higher prices will accelerate that process, according to International Energy Agency Executive Director Fatih Birol. 
"I expect U.S. production will start to increase again -- all the indications are there -- as a result of the higher prices," Birol said. "Prices will go up, U.S. and other production will go up and put downward pressure on prices again. And up and down. We are entering a period of greater oil-price volatility."

While oil has increased more than 20 percent since the Organization of Petroleum Exporting Countries decided to cut production to boost prices, it has also helped bring back more shale drillers, which have put 46 percent more rigs to work in the past six months. The slump of the past two years also forced drillers to become more efficient and operate at lower costs.
"This means that while 2017 is starting out very bullish for oil, it may not end that way," said Bjarne Schieldrop, chief commodities analyst at SEB AB bank in Oslo. "Physical delivery of oil will force the price back down again in the second half of this year."
Drillers today are three times more productive than they were in 2013, Schieldrop said. They are also more flexible and can adjust production quickly in response to changing prices, according to Birol.
Saudi Arabia's Al-Falih welcomes higher U.S. output because future oil demand will require supply from all sources, he said in Davos on Tuesday. Yet, he also said there could be limits to the comeback.
Most Prolific
"What is being tapped recently in North America are the most prolific" fields, he said, sitting in the audience at an session on energy in the Swiss ski resort. "As demand grows, they will go to the more expensive, more difficult, less prolific. They will find they need higher prices."
Production in the U.S. has increased by about 460,000 barrels a day, or 5.4 percent, in the past six months after falling by almost 600,000 barrels in the first half of last year. The Energy Information Administration last week raised its domestic output forecast for 2017 to 9 million barrels a day from 8.78 million projected in December. That's up from 8.89 million barrels in 2016. Output is projected to increase to 9.3 million barrels a day for 2018.
"The U.S. oil producers, and Canadian producers and all over the world are adapting to doing better in a lower price environment and that has created a resiliency that we haven't seen," Kenneth Hersh, chairman of NGP Energy Capital Management, said in Davos. "U.S. unconventional has increased about half a million barrels on a $50 base, whereas two years ago it was unthinkable oil production in the U.S. would increase at $50."
Shale Comeback
Shale fields in the U.S. can break even at a wide range of oil prices. Some of Royal Dutch Shell Plc's assets in the Permian area are profitable below $40 a barrel, Chief Financial Officer Simon Henry said Nov. 1. Others require much higher prices.
Exxon Mobil Corp. said on Tuesday that it was paying as much as $6.6 billion to double its Permian Basin assets through the acquisition of companies owned by the Bass family of Fort Worth, Texas.
"U.S. shale is coming back, but it isn't roaring back at current prices of $50 to $55 a barrel," BP's Dudley said. "You do see the rig count coming back and there will be a market response there as well."
Before it's here, it's on the Bloomberg Terminal.
LEARN MORE