Thiam Says Most Credit Suisse Trading Cuts Done Amid Rebound
By
Compensation pool likely to be 'reasonable' this year

Swiss unit IPO on track for second half, Thiam says in Davos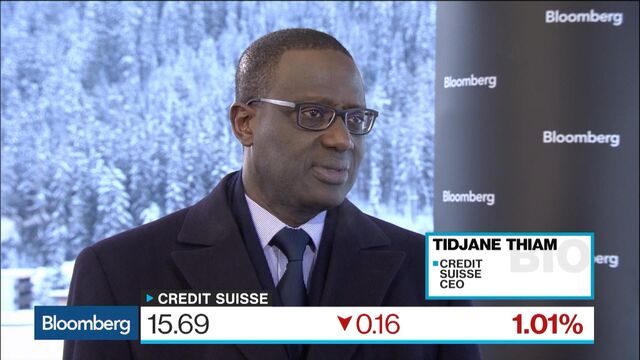 Credit Suisse Group AG Chief Executive Officer Tidjane Thiam said the bulk of the bank's job cuts in global markets are behind it and investors should see the benefits of lower costs starting next year.
While more reductions are coming in the global-markets division this year, they're "not that material," Thiam said in an interview with Bloomberg Television's Francine Lacqua at the World Economic Forum in Davos, Switzerland. "We should increase productivity 2 or 3 percent per annum. In 2018, you see the improvements coming through."

Thiam, 54, last year cut 6,000 jobs across the bank as the firm shifted its focus to wealth management and absorbed unexpected losses on trading positions. Thiam said market conditions for banks should improve this year as higher U.S. interest rates ease pressure on lenders, who have struggled to boost revenue amid ultra-low or even negative rates.
His upbeat comments echoed the optimistic tone of UBS Group AG Chairman Axel Weber, who said in a separate interview Tuesday that the executives and policy makers gathering in Davos this week were too gloomy.
Rate Boost
"There is an expectation that '17 will be better than '16," Thiam said. "You have a number of things going in that direction, certainly interest rates."
Higher rates should benefit fixed-income trading, according to the CEO, a business the bank had scaled back because of tighter capital requirements. Equities trading, where Credit Suisse wants to expand, should also do well, after the business was hit by a slump in Europe in the third quarter.
"The expectation is that fixed income is going to do well," he said. "With equities we have a good franchise. It is doing well."
Credit Suisse posted some of the weakest results from stock trading among rivals in the third quarter. In September, Thiam replaced global markets chief Tim O'Hara, who had previously run equities, with Brian Chin, a veteran in Credit Suisse's securitized products business in New York. Last month, the bank hired UBS Group AG's Mike Stewart as head of equities, reporting to Chin.
'Reasonable' Compensation
With the progress made in turning around the company, Thiam said it "should be a reasonable year" for compensation.
Credit Suisse in December reached a agreement in principle to pay $5.3 billion to end a U.S. probe into its role in selling mortgage securities in the run-up to the financial crisis, removing a major source of uncertainty that had weighed on its stock. Harris Associates, one of the biggest investors in Credit Suisse, has said the settlement terms are favorable enough that the bank may not need to sell part of its Swiss unit.
Thiam said Tuesday that the bank is still working on an initial public offering in the second half of the year, though the timing would ultimately depend on market conditions and the board's decision. The bank plans to raise 2 billion francs ($2 billion) to 4 billion francs from the sale of 20 percent to 30 percent of its Swiss business.
'All About Costs'
Even with conditions improving, bank executives signaled they will continue to focus on costs as revenue growth remains outside their control.
"Since you cannot really grow your front business, and since interest rates are at zero, you can't really influence revenues very much," UBS's Weber said. "So it's all about costs. So banks are consolidating, banks are optimizing, banks are actually looking at joint ventures in many areas."
Thiam also said that the Credit Suisse is exploring cost-sharing programs with other banks, without elaborating. Earlier Tuesday, he said the industry in Europe would benefit from consolidation.
"What you see in Europe, and I am not the first one to say that, is a system that is still in flux where we could see benefits to further consolidation," Thiam said during a panel discussion in Davos. Consolidation would "certainly bring benefits to the clients."
Before it's here, it's on the Bloomberg Terminal.
LEARN MORE