Commerce Pick Wilbur Ross Discloses Assets Topping $336 Million
By , , and
Disclosure comes less than a day before Senate hearing

Ethics agency signs off on agreement, Ross to divest assets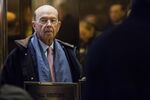 Private equity investor Wilbur Ross, President-elect Donald Trump's choice for Commerce Secretary, disclosed assets worth more than $336 million in a federal financial disclosure statement that doesn't capture his net worth.
The federal Office of Government Ethics posted Ross's financial disclosure one day before his Senate confirmation hearing is set to begin Wednesday morning. It also signed off on his ethics agreement, in which Ross pledges to resign from dozens of positions and divest most of his assets within 180 days of confirmation, while holding onto transportation and real estate lending investments. Ross also promised to recuse himself from matters involving those investments for as long as he owns them.
Ross, whose total net worth Bloomberg estimates at $2.9 billion, disclosed the value and income of funds he receives income from, but mostly didn't break out figures for many underlying assets that the agency doesn't require. Many of the assets are stakes in private equity funds and other entities managed by his namesake investment firm, WL Ross & Co.
The 57-page disclosure filing showed holdings of Apple Inc. and Boeing Co. shares and cash accounts of more than $150 million combined. Ross put the value of his art collection, which includes several Rene Magritte paintings, at more than $50 million. His wife, Hilary Geary Ross, owns assets valued at at least $3.97 million, the filing shows. Values are reported in ranges that top out at $50 million.
Commerce Decisions


According to his ethics agreement, Ross, 79, will resign his position with 38 entities. Those include Invesco Ltd., which bought WL Ross in 2006, as well as seven named subsidiaries. He'll also step down from Exco Resources Inc. and 29 other funds and entities in which he holds a financial stake, while retaining an interest in seven of those including funds that invest in shipping.
He also will retain interests in several other funds, but won't participate "personally and substantially" in any decisions to do with those entities.
Divesting assets will distance Ross from several companies in which WL Ross owns stakes that could be affected by Commerce Department decisions, including oil and gas producers BreitBurn Energy Partners LP and Exco Resources.
Ross's disclosure also named him as well as chairman of car-parts maker International Automotive Components Group. It is not clear from the ethics agreement whether he will give up this position.
Steel -- an industry strongly influenced by U.S. trade policy -- has long figured in Ross's career. In 2004, WL Ross and its backers scored about a $2.9 billion profit selling International Steel Group to ArcelorMittal SA, the world's largest steel producer. Ross agreed to leave his position on the board of ArcelorMittal as part of his ethics review, a role that paid him $180,000 in 2015, according to its annual report.
Ross will divest his stakes in publicly traded companies and some bond positions within 90 days of confirmation and his interests in WL Ross private equity funds, which are less liquid, within 180 days of his being confirmed.
The firm's foreign holdings include Greece's Eurobank Ergasias SA, Bank of Cyprus and China Huaneng Group, a state-controlled power producer, the disclosure filing shows. The financier owns stock in a publicly traded U.S. chemicals distributor, Nexeo Solutions Inc., valued at more than $25 million.
Ross is stepping down from positions at Bank of Cyprus and Nexeo.
Selling Stakes
Ross, who started New York-based WL Ross in 2000 continued to run the firm for eight years after it was sold to Invesco. He currently owns general partnership stakes in a handful of investment funds WL Ross manages, earning a cut of deal profits. Ross is close to completing a plan to sell those stakes in a way that will not force the funds to unload holdings, a person familiar with the matter said.
The firm has bet about $12 billion on more than 175 companies. While WL Ross's early funds posted stellar gains, results have been lackluster over the past decade, according to fund data compiled by Bloomberg.
Ross will forfeit his unvested restricted stock in Exco Resources, which he valued at between $100,000 and $250,000 on his disclosure form, because the company declined to accelerate payments to him. Invesco, by contrast, agreed to vest his restricted stock, valued at between $5 million and $25 million.
Ross also said that he made a "good faith request" to the firm to stop using the WL Ross name in its entities. "I specifically advised them that you have indicated the use of initials would be acceptable," Ross wrote in the agreement.
The ethics agency has allowed other Commerce Secretaries to maintain private sector arrangements and assets while in office. Incumbent Penny Pritzker had to resign from the board of Hyatt Hotel Corp. when she joined the Obama administration in 2013, but held onto stock and continued receiving deferred compensation, even though officials determined that they posed a conflict of interest. Pritzker agreed to recuse herself from matters involving Hyatt, which would not prevent her from performing the core duties of her job.
— With assistance by Brandon Kochkodin, John Voskuhl, and Sarah McGregor
Before it's here, it's on the Bloomberg Terminal.
LEARN MORE