China Stock Volatility Wanes Amid Speculated State Intervention
Bloomberg News
State-owned investors steadied market Monday, Tuesday: sources

Hong Kong-traded Chinese stocks rally on strengthening yuan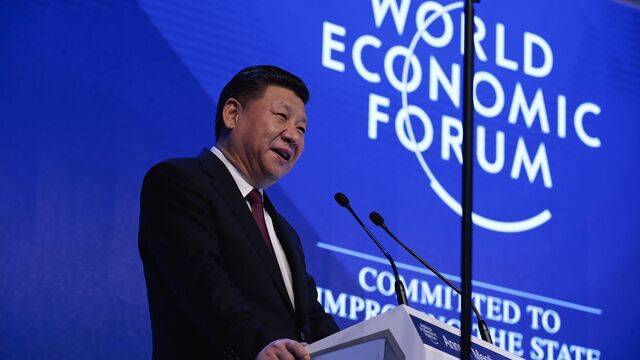 Volatility in Chinese shares waned amid speculated state efforts to ensure market stability during President Xi Jinping's appearance at the World Economic Forum in Davos.
The Shanghai Composite Index added 0.1 percent at the close, with 10-day volatility at the lowest level since September. State-owned investors bought shares to steady the market on Monday, while some funds were guided on Tuesday not to sell holdings with big weightings in benchmark indexes, people familiar with the matter said, asking not to be identified because they aren't authorized to discuss the matter publicly.
"China is doing this probably because it wants to paint an image of positivity as President Xi attends Davos," said Tommy Xie, an economist at Oversea-Chinese Banking Corp. in Singapore. Stocks will continue to be volatile as the nation's monetary conditions tighten, Xie said.
China's shares have been under pressure since the start of December, along with the nation's bonds, as funding costs rose amid central bank efforts to stave off asset bubbles and support the currency. A gauge of small-cap shares in Shenzhen tumbled 8.1 percent in an eight-day rout through Monday before rallying in late trade Tuesday.
Chinese authorities have been known to intervene in markets before events of political importance, with government funds stepping in to boost share prices before a key meeting of the National People's Congress last year and before a 2015 military parade celebrating the 70th anniversary of the World War II victory over Japan.
The China Securities Regulatory Commission didn't immediately respond to a faxed request for comment and two calls to the press office weren't answered. The Shenzhen Stock Exchange and the Shanghai Stock Exchange declined to comment.
H-Shares Rally
The Hang Seng China Enterprises Index, an H-share measure of mainland Chinese shares, added 1 percent as the yuan rallied to a two-month high. China's currency has strengthened in both offshore and onshore markets this week as the dollar slid after U.S. President-elect Donald Trump was quoted by the Wall Street Journal as saying that the greenback was "too strong." Hong Kong's benchmark Hang Seng Index rose 1.1 percent.
"Sentiment in Hong Kong is improving as concerns over capital outflows ease on a tumbling dollar," said Castor Pang, head of research at Core-Pacific Yamaichi in Hong Kong. "The yuan rally has prompted investors to buy Chinese companies, many of which were heavily sold on depreciation fears. President Xi's comments at Davos are supportive to exporters in near term."

Money Rates
While China's central bank has since August tried to drive up borrowing costs to stave off asset bubbles, it boosted cash injections Wednesday amid increased demand before the Jan. 27-Feb. 2 Lunar New Year holidays. The People's Bank of China added a net 410 billion yuan ($60 billion) through open-market operations, the most in data going back to 2004.
Xi's presence at Davos marks a chance to burnish China's clout after decades of American economic and military dominance. Facing a more protectionist, inward-looking Donald Trump administration and a disruptive British exit from the European Union, Xi has been offering assurances that the world's largest trading nation will defend the structures that have fostered globalization and economic growth.
"Protectionism is like locking yourself in a dark room, which would seem to escape wind and rain, but also block out the sunshine," Xi told the World Economic Forum, the first Chinese head of state to address the annual gathering in the Alpine resort town of Davos. "No one is a winner in a trade war."
The president brought with him the biggest-ever delegation of Chinese executives to Davos, including Alibaba Group Holding Ltd. founder Jack Ma, Dalian Wanda Group Co. Chairman Wang Jianlin and Huawei Technologies Co. Chairwoman Sun Yafang.
Net buying of Hong Kong shares through the Shanghai trading link totaled 1.7 billion yuan ($248.8 million), the most this year
China Hainan Rubber Industry Group Co. and China Communications Construction Co. both rose at least 3 percent in Shanghai, leading gains among Chinese materials and infrastructure companies
Orient Overseas International Ltd., owner of Hong Kong's biggest container-shipping line, surged 7.3% in the city after Chinese financial media outlet Caixin reported that China Cosco Shipping Corp. and other liners will bid for the company
Baoxin Auto Group Ltd. and China Zhengtong Auto Services Holdings Ltd. led gains by Chinese auto dealers; Baoxin Auto said its 2016 profit will increase at least 180 percent from the year earlier