China's Second Stock Link Is Changing How People Buy Its Shares
Bloomberg News
Link investors attracted by lower costs, fewer restrictions

QFII now more likely to be used for bonds, futures, funds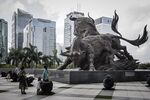 China's second stock exchange link with Hong Kong is accelerating a change in how overseas investors access the world's second-largest equity market.
Foreigners are selling the Chinese shares they hold under the Qualified Foreign Institutional Investor program and buying them back using the new Shenzhen-Hong Kong Stock Connect, according to market participants. The shift may partly explain why some mainland equities have seen heavy purchases through the link even as their prices dropped. Among the 10 Shenzhen-listed stocks bought most through the connect on its Dec. 5 debut, just two rose on the day. 
The link to Shenzhen's $3 trillion market has left international equity investors with one less reason to use the 14-year-old QFII program, which comes with higher expenses and stricter rules on repatriating money. While the shift doesn't yet mark QFII's demise, foreigners are now more likely to use their quotas on other investments including bonds.
"It's more expensive to use QFII," said Alex Au, managing director of Alphalex Capital Management in Hong Kong, adding that his fund is making the shift to the stock link. "Many investors are doing the same thing."
Au said QFII is costly for his firm because it hasn't been awarded a quota directly by the Chinese government, meaning he has to rent access from a brokerage. No such requirement applies to the link, which is open to anyone with a Hong Kong trading account. 
Expanded Access
The Shenzhen-Hong Kong Connect opened just over two years after the start of the former British colony's trading link with Shanghai. The two systems mean that more than 1,400 mainland stocks are available for offshore investors, according to Hong Kong Exchanges & Clearing Ltd.
For now, the links are limited to shares. QFII, on the other hand, has already been expanded to include debt, funds and stock-index futures. Regulators last year scrapped a requirement that at least half the assets in QFII accounts must be held in equities.
Investors with existing QFII quotas might be buying through the connect to free up their quotas and use them elsewhere, said Sandy Mehta, chief executive officer of Value Investment Principals Ltd. in Hong Kong.
"Over time fund managers may well be shaping their portfolios to take advantage of the relative merits of each structure," said Nick Ronalds, managing director for equities at the Asia Securities Industry and Financial Markets Association in Hong Kong.
Repatriation Restrictions
Another advantage of using the connect is that investors are free to repatriate funds when they want. QFII is subject to restrictions that limit the amount that can be taken out of the country at one time, and that's an issue for many fund managers, Ronalds said. MSCI Inc. cited the restrictions when it declined to add Chinese shares to its global indexes in June, saying the limits remain a "significant hurdle" for investors.
Value Partners, one of Hong Kong's biggest money managers, has the majority of its Chinese stock investments in QFII quotas but is gradually moving to the connect because it's cheaper, said Philip Li, a Hong Kong-based senior fund manager at the firm, which oversees $14 billion.
"You are probably paying low teens in basis points to sort QFII access, and mid-to-high single digits on the connect program," Li said. "So it can be a significant difference in terms of price."
— With assistance by Benjamin Robertson, Gary Gao, and Kana Nishizawa
Before it's here, it's on the Bloomberg Terminal.
LEARN MORE