Pentagon Chief Says Russia's Actions Constrain Cooperation
By
North Korea presents one such opportunity, Carter says

But Syria is 'decidely not' an area for working together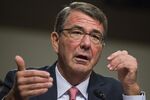 Departing Defense Secretary Ash Carter says the U.S. should continue to seek opportunities to cooperate with Russia despite the fading options that President Vladimir Putin's behavior allow.
"I do see areas where we can cooperate, but they are getting narrower and narrower over time," Carter said in an interview Tuesday. "That's the trajectory Russia has been on" because "that common ground to work on has been reduced over the last 10 years progressively. That's just the fact of where we find ourselves now."
Days before the inauguration of President-elect Donald Trump, who has vowed to seek improved relations with Putin, Carter said that option is "still possible" where U.S. and Russian interests overlap, such as blocking North Korea's nuclear weapons program and preventing Iran from having one.
Yet such cooperation has "decidedly not been the case" in fighting Islamic State terrorists in Syria, he said. While Trump has talked of such a joint effort, the Pentagon has found its attempts to support a "moderate" opposition in Syria undercut by Putin's military support for the regime of President Bashar al-Assad.
Read more about the new 'cool war' with Russia -- a QuickTake
Carter's frame of reference for potential cooperation dates to the early 1990s when, as a Pentagon policy official, he helped Russia emerge from a nuclear weapons-laden Soviet Union after its collapse, "making sure there was not nuclear chaos as a consequence of the disintegration," he said.
Defining Interests
Carter said Russia also "found a way that it could be in both our interests and NATO's interests to work together in the Balkans," where ethnic conflict raged in the 1990s after the disintegration of Yugoslavia. "So I've done that and it is possible" to work with Russia, he said.
"But if the government of Russia defines its interests not only as different from the United States, which we expect, but as deliberately in opposition to the United States, it's very difficult to build a bridge to that motivation -- and that's the challenge going forward."
Asked to highlight one potential area of cooperation over the next four years, Carter cited North Korea and its developing nuclear weapons program. "The Russians, like we, regard war on what, after all, would be their border and a new nuclear state on their border, as not in their interest -- so there's an area where it should be clear, and has been clear to Russia, Carter said.
"I wish I could say the same thing with respect to North Korea about China, which probably has more influence over the North Korean regime than certainly the United States," Carter added.
Before it's here, it's on the Bloomberg Terminal.
LEARN MORE