Billionaire Luxottica Founder Secures Legacy in Essilor Deal
By and
After sale, Del Vecchio will be top shareholder of new company

"You can fire an executive, but not one of your children"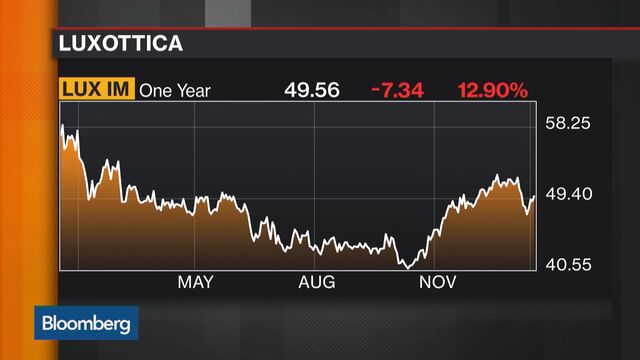 For years, Leonardo Del Vecchio has sought to find a successor at Luxottica Group SpA, the eyewear retailer and manufacturer he founded in 1961. The 81-year-old has seen the departure of a slew of top executives in recent years, and he has made it clear that he doesn't want his children to take over. A deal with France's Essilor offers a tidy solution.
Luxottica and Essilor, a French producer of lenses for eyeglasses, on Monday announced they plan to join forces. In the all-stock transaction, Essilor will offer 0.461 shares for each share of Luxottica. Del Vecchio, will become by far the largest shareholder in the combined company, with as much as 38 percent of the stock and 31 percent of voting rights.
In creating the new company, to be called EssilorLuxottica, Del Vecchio combines the industry's largest manufacturer with its leading retailer. Essilor CEO Hubert Sagnieres, 61, will be executive vice chairman and deputy CEO with powers equal to those of Del Vecchio, Italy's second-wealthiest person, with a fortune valued at about $18 billion.
With the combination, "two products that are naturally complementary -- namely frames and lenses -- will be designed, manufactured, and distributed under the same roof," Del Vecchio said in a statement Monday.
Luxottica owns the Ray-Ban and Oakley brands and makes frames for luxury houses such as Armani, Chanel, and Prada. It's also the biggest eyeglass retailer, with chains including Lenscrafters, Pearle Vision, and Sunglass Hut. Essilor is the No. 1 maker of lenses and has been expanding in retailing via recent acquisitions in Britain and Canada.
Tug-of-War
The deal has been a long time coming. Del Vecchio launched talks with Essilor in 2013, but both sides wanted a merger of equals and Luxottica was bigger than Essilor at the time, according to people familiar with the matter. By last summer, Luxottica's shares had declined and the companies were roughly equal in value, which jump-started the negotiations again.
One goal was simply to give Luxottica a jolt, doubling its size in a single transaction, and to find a management team with a vision similar to his. Del Vecchio has had difficulty retaining top management, with three leaders leaving the company in a 15-month period from late 2014 to January 2016.
A second motivation was to prevent a tug-of-war as Del Vecchio prepares to transfer his wealth to the next generation, the people said. Del Vecchio has made clear that he doesn't want any of his six children, from three marriages, to run the company. His eldest son, Claudio, 57, was co-CEO of the eyewear maker until 2000. Today, Claudio is the owner and chairman of the Brooks Brothers clothing chain in the U.S.
"I have never considered involving my children or even my grandchildren in the management of Luxottica," Del Vecchio said in a 2014 interview. "Your kids will always be your kids. You can fire an executive, but not one of your children."
He told daily Corriere della Sera in an interview published today that he will remain executive chairman of the new company for three years, and then shareholders will decide whether to keep him on or choose a successor. He added that his family will remain actively involved in the new company, though with a role "increasingly more as investors."
Del Vecchio saw a deal with Essilor as the best option for ensuring the future of the company he built. He believes that owning a smaller stake in a larger operation and shifting his assets to a holding company will reduce the chances of disruption to the business if there's any discord among his heirs, the people said.
"Even after me, there will be someone who will help the company thrive," Del Vecchio says in a video interview posted on Luxottica's website. He declined to comment for this story.
Ray-Ban
Born in 1935, Del Vecchio grew up poor in Milan. Unable to care for her son, his mother -- widowed five months before he was born -- sent him to an orphanage when he was seven. He began working as an apprentice to a tool and dye manufacturer in Milan when he was 14.
In the late '50s Del Vecchio moved to the town of Agordo, in the Alps north of Venice, where he started a small business making eyeglass frames designed by others. He founded Luxottica in 1961 with 14 workers on land he got free from the town in a bid to stimulate the local economy.
In 1971, Luxottica started to produce its own designs, then in the 1980s, Del Vecchio began buying companies in the U.S. In 1999 he purchased Ray-Ban from Bausch & Lomb for $640 million. Luxottica has been listed on the New York Stock Exchange since 1990 and in Milan since 2000.
"I started as the shop boy, they didn't call me Leonardo, but simply 'fioeu,'" or "boy" in the local Milan dialect, he recalls in the website video. "I started as a supplier but I never wanted to depend on someone else, so we started making our first frames."