Swiss Watchmaker Adds Cheese to 'Make Swiss-Made Great Again'
By
Swiss-Made watches may be as much as 90% Asian, H. Moser says

Company's new watch has case made with alloy of Swiss cheese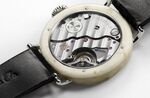 In a protest to show that Switzerland's new rules on Swiss-Made are too lenient, a luxury watchmaker has built what it calls a 100 percent Swiss timepiece, composed only with locally produced natural resources, such as a strap of cowhide rather than alligator leather, plus a more unusual ingredient: cheese.
At Geneva's annual watch fair, which opened Monday, H. Moser & Cie. unveiled the one-of-a-kind piece, whose watchcase is made of resin mixed with pasteurized Vacherin Mont d'Or cheese. The "Swiss-Made" designation is so meaningless that the brand will no longer use it, the Schaffhausen-based company also said.

"As much as 90 percent of components can be made in Asia, but the watch could still carry the Swiss-made label," Chief Executive Officer Edouard Meylan said in an interview. "The Swiss watch industry doesn't want people to know that. We don't want to be compared with a label that's not strong enough and that many brands are abusing."
As of Jan. 1, 60 percent of the value of timepieces needs to come from Switzerland for them to gain the title, up from 50 percent previously. Most of H. Moser's watches are 95 percent Swiss. In a satirical video, which also takes swipes at Swiss banking and Heidi, Meylan appears wielding a crossbow and wearing red suspenders and a cap that says "Make Swiss-Made Great Again."
"Swiss people are real magicians," Moser says in the ad. "We can turn anything into something Swiss."
The new rules have loopholes as they allow watchmakers to include research and labor costs in their calculations. Meylan said that Moser could legally use the label by building a watch with Asian parts and adding just one metal plate in Switzerland that gets polished in a Swiss workshop for 10 hours. 
A law requiring 80 percent would be more fair, according to the CEO, who has dubbed Moser's new piece the "Swiss Mad" watch. Moser also is selling a limited edition of 50 pieces with a case made with white gold rather than the cheese composite material for 19,500 francs ($19,300) each.
Moser is known for making publicity stunts each year, satirizing current events in watchmaking. Last year, it unveiled a 24,900-franc mechanical spoof of the Apple Watch, calling it the Swiss Alp Watch. Moser is taking bids for the Swiss Mad timepiece and has received a handful of offers at more than 100,000 francs, Meylan said.
Before it's here, it's on the Bloomberg Terminal.
LEARN MORE