Obama Still 'Surprised' by Level of Partisanship in Washington
By
Outgoing president speaks in interview on CBS' '60 Minutes'

Obama says he didn't 'crack the code' in reducing partisanship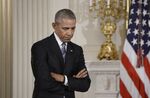 President Barack Obama said that upon becoming president he was "surprised" at the severity of partisanship in Washington -- and that it continues to shock him even now.
"I'd been warned about it," Obama, who often portrayed himself as transcending politics during his first presidential campaign, said Sunday in his final network television interview as president.
"People would say, 'Oh, he's being naïve. He thinks that there's no red states and blue states. And wait 'til he gets here,"' Obama said on CBS News's "60 Minutes." "And I will confess that I didn't fully appreciate the ways in which individual senators or members of Congress now are pushed to the extremes by their voter bases."
Obama said he "became a lightning rod for some partisan battles" and that Republicans sometimes flipped on positions they had previously supported, simply to not be on the same side as the Democratic president. He also said that the U.S. is "weakening" itself through partisanship that's so intense it discourages cooperation.
'Bipartisan Fever'
If members of Congress "think that it's harder for them to get re-elected by cooperating with each other, then they won't cooperate," he said, citing the Senate's refusal to consider appeals court Judge Merrick Garland, his nominee to fill the Supreme Court vacancy created by the death of Justice Antonin Scalia in February.
"I'm the first to acknowledge that I did not crack the code in terms of reducing this partisan fever," the president said.
Obama said that the November election, and Republican Donald Trump's victory over Democrat Hillary Clinton, shows there's "a lot of cynicism out there."
"It indicates that the corrosive nature of everything from talk radio to fake news to negative advertising has made people lack confidence in a lot of our existing institutions," he said. "It indicates, at least on the Democratic side, that we've got more work to do to strengthen our grassroots networks."
Obama also said he was "very effective" in his campaigns when "shaping public opinion," but was less successful in office.
"There were big stretches while governing, where, even though we were doing the right thing, we weren't able to mobilize public opinion firmly enough behind us to weaken the resolve of the Republicans to stop opposing us or to cooperate with us," he said. "And there were times during my presidency where I lost the PR battle."
Before it's here, it's on the Bloomberg Terminal.
LEARN MORE