markets
Fink Signals Support for Merkel Policies in German Election Year
By
Merkel has provided 'moral leadership' to world, Fink says

Fink sits on panel of advisers to Trump, who criticized Merkel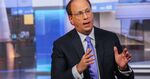 One of Wall Street's most influential figures, BlackRock Inc.'s Larry Fink, signaled his support for Angela Merkel as Germany's chancellor prepares to campaign for re-election this fall, saying she has provided "moral leadership" to the world.
"I sincerely hope that Germany chooses to continue its role as a leader and stabilizing force in the world," Fink, the chairman and chief executive officer of the world's biggest asset manager, said in a speech Monday evening at a reception hosted by Deutsche Boerse AG in Frankfurt. "Germany has demonstrated its ability to balance acts of humanity and economic and political challenges."
Fink's remarks contrast with those of incoming U.S. President Donald Trump, whose panel of business leaders he sits on. Trump lambasted Merkel's immigration policies and derided the European Union as a vehicle for German interests in an interview this week. Although the German chancellor is widely expected to win the election, she is facing an unprecedented challenge from the rise of Alternative for Germany, a populist party that also criticizes her decision to let in a wave of Syrian refugees and economic migrants two years ago.
"I stand here privileged to witness the strength of Germany's political system, its remarkable economy, the work ethic of its citizens, as well as the moral leadership that Chancellor Merkel and Germany have played in an increasingly discordant world," Fink said.
He also said Deutsche Boerse's attempted combination with London Stock Exchange Group Plc would be healthy for markets.
BMW Stake
BlackRock, which manages more than $5 trillion, has a big stake in the German economy as the country's leading provider of exchange-traded funds.
The New York-based company is also among the top 5 shareholders in all of the 30 largest members of Germany's DAX index. That includes BMW AG, which Trump attacked in an interview with two European newspapers published Sunday for its plans to open a plant in Mexico rather than the U.S. Merkel rebuffed the criticism directed at her by Trump, but avoided commenting on the automaker or other companies.
In Monday's remarks, Fink repeated that low interest rates are punishing savers and urged the German government to bolster non-state pension provision, given that Germans hold more than 60 percent of their savings in cash. He has previously backed aggressive fiscal policy by governments and tighter monetary policy from central banks.
Securitization Markets
He also urged Europe to "responsibly" revive securitization markets to move loans off of banks' balance sheets, supporting lending.
Fink, who has called Britain's vote to leave the European Union a "miserable day," had some criticism for EU policies. He said Monday that the bloc is "pulling itself in two directions" with initiatives like the Solvency 2 insurance regulations, which he said could result in restricted funding to companies, though he praised the establishment of a capital markets union.
"The European project endured great doubt and criticism in 2016," said Fink on Monday. "But Germany's leadership – its dedication to European ideals of tolerance and shared prosperity – has helped keep that vision alive."
"I believe that increasing economic opportunity will play an essential role in calming tensions and preserving European ideals," he said.
Before it's here, it's on the Bloomberg Terminal.
LEARN MORE