Canada Home Prices End 2016 With Slowest Gain in Two Years
Theophilos Argitis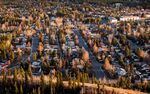 Canadian home prices rose in December at the slowest pace in two years, adding to evidence the nation's housing market is cooling.
Prices rose 0.1 percent from the prior month, the Canadian Real Estate Association said Monday, citing its benchmark home indexes. That's the slowest pace since November 2014.
With Toronto and Victoria the only pockets of strength, the data suggest recent steps by policy makers to curb demand are working.
In Vancouver, where the British Columbia government imposed a 15 percent tax on foreign buyers in August, prices were down
1.2 percent for a second month. The 2.4 percent drop since October marks the biggest two-month decline since the 2009 recession.
Even Toronto seems to be cooling. Prices advanced 0.8 percent in December, after a 0.9 percent gain in November. That's about half the 2016 average monthly pace of 1.6 percent.
Before it's here, it's on the Bloomberg Terminal.
LEARN MORE