U.K. to Do 'Whatever' Is Needed to Be Competitive, Hammond Says
By
Britain may 'change economic model' if denied EU market access

Chancellor of the Exchequer comments in interview with Welt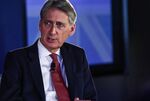 The U.K. will do "whatever we have to do" to boost its competitiveness if it fails to secure post-Brexit access to the European Union single market, Chancellor of the Exchequer Philip Hammond said in an interview published Sunday in a German newspaper.
"If Britain were to leave the European Union without an agreement on market access, then we could suffer from economic damage at least in the short-term," Hammond said in an interview with Welt am Sonntag. "In this case, we could be forced to change our economic model and we will have to change our model to regain competitiveness. And you can be sure we will do whatever we have to do."
Hammond was criticized by opposition Labour Party leader Jeremy Corbyn, who said the comments sounded like a threat to wage a trade war or undercut EU countries on taxes.
The chancellor's interview was published the same day the Sunday Times reported that Prime Minister Theresa May will signal plans for a "hard Brexit" this week by saying she's willing to quit the EU's single market for goods and services to regain control of Britain's borders and laws. That risks alarming investors, bankers and company executives, who will fret that May is prioritizing social issues over economic growth.
Hard Ball
While May might hope to eventually line up a new free-trade partnership with the bloc of over 500 million consumers, leaving the EU's single market and customs union risks making it costlier and more complicated for British exporters to trade with their biggest market.
Hammond's comments imply that when it comes to those economic issues, he's willing to play hard ball.
"Most of us who had voted remain would like the U.K. to remain a recognizably European-style economy with European-style taxation systems," he said. "I personally hope we will be able to remain in the mainstream of European economic and social thinking. But if we are forced to be something different, then we will have to become something different."
He also said that European companies will likely want to continue selling products into the U.K. without paying tariffs, and denied that allowing for the free movement of goods and services while restricting immigration from the bloc was "cherry picking."
Ahead of the start of formal exit negotiations, European leaders and the chief EU negotiator for Brexit, Michael Barnier, have stressed that the U.K. cannot maintain access to the single market without the free movement of people.
According to the Guardian newspaper, the Netherlands plans to block any EU trade deal with the U.K. unless it signs up to tough tax-avoidance regulations. The newspaper cited a letter to regional leaders from Deputy Prime Minister Lodewijk Asscher, who wrote that it's in the interest of all Europeans to prevent a "race to the bottom for profits taxation."
Trade War
Seven months after 52 percent of voters chose to quit the EU and less than three months before her own deadline to open two years of divorce talks, May is under mounting pressure at home and abroad to detail her strategy. In a report released on Saturday, the panel of British lawmakers charged with scrutinizing Brexit said her government must deliver its road map by the middle of February.
Speaking on the BBC's Andrew Marr show, Corbyn said Hammond "appears to be making a sort of threat to the European community, saying 'well, if you don't give us exactly what we want, we're going to become this sort of strange entity on the shores of Europe, where there will be very low levels of corporate taxation designed to undermine the effectiveness or otherwise of industry across Europe.'"
"It seems to me a recipe for some kind of trade war with Europe in the future," Corbyn said. "That really isn't a sensible way forward."
Before it's here, it's on the Bloomberg Terminal.
LEARN MORE