Trump's New Border Conflict of Interest
His backer Kelcy Warren and billionaire Carlos Slim support a pipeline taking Texas natural gas to Mexico.
By and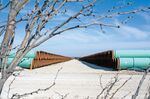 As President-elect Donald Trump promises to push ahead with a border wall and threatens to penalize companies that move production to Mexico, the final touches are being put on two pipelines that snake from Texas shale fields across the southern U.S. border. The projects, which have a combined value of $1.4 billion, will supply the Comisión Federal de Electricidad, Mexico's state-owned electric utility, with U.S. natural gas that will lower power costs in Mexico—including those at factories churning out everything from car parts to flatscreen TVs for American consumers. The utility contracted in 2015 with a transnational consortium that includes Mexican-based Carso Energy, to develop and operate the Comanche Trail Pipeline and the Trans-Pecos Pipeline.
The consortium brings together an unlikely cast of characters: Carlos Slim, the billionaire who controls Carso Group; Texas billionaire Kelcy Warren, chief executive officer of Dallas-based Energy Transfer Partners, who donated more than $100,000 to Trump's campaign; and Trump himself, who owned as much as $1 million worth of shares in Energy Transfer Partners according to his federal candidate disclosures in 2015 and still had as much as $50,000 worth as recently as May, according to his most recent disclosure. (Trump spokeswoman Hope Hicks says the president-elect sold his shares in the company last year.) Trump's pick for energy secretary, former Texas Governor Rick Perry, was a member of Energy Transfer's board until the end of December; he's selling his shares in the company and pledged not to participate in any matters that could affect them for at least two years.
In October, the U.S. government sued to stop construction of the Comanche Pipeline to give federal agencies time to assess its impact on irrigation canals and a section of border fence. A judge ordered a halt on Nov. 8, the day before Trump was elected.
Trump said during his campaign that Slim, a top shareholder in the New York Times and a Clinton Foundation donor, was working alongside Hillary Clinton's campaign to help generate negative coverage. At the time, a Slim spokesperson said the billionaire had never met Trump and wasn't interested in U.S. politics.
On Dec. 17, Slim joined Trump for dinner at Mar-a-Lago, his Florida resort. Two days later the consortium reached a settlement, allowing construction to resume on the Comanche Trail Pipeline in exchange for paying $5.4 million to protect the irrigation canals. The U.S. government determined there was "no immediate damage" to the border fence, according to a spokesman for the U.S. Attorney's Office for the Western District of Texas. Through a spokesman, Slim declined to comment. Says Energy Transfer Partners spokeswoman Vicki Granado: "We look forward to completing these projects in the near term."
The pipelines offer a stark example of how Trump's interests, and those of his supporters, sometimes conflict with his political promises. "It raises so many ironies in terms of U.S. politics at the moment," says Patrick Schaefer, executive director at the Hunt Institute for Global Competitiveness at the University of Texas at El Paso. "One of Texas' main consumers of energy is Mexico, which then uses that cheap natural gas to lower the cost of goods that are sent to the U.S. market at a much more competitive price."
Mexican President Enrique Peña Nieto announced plans in 2015 to invest almost $10 billion in 24 natural gas projects, with the goal of increasing the country's pipeline infrastructure by 75 percent by 2018. The Comanche Trail and Trans-Pecos pipelines, which are scheduled to come online this year, begin in the heart of Texas' shale-oil-rich Permian Basin, and each extends more than 100 miles to the border and under the Rio Grande, where they'll connect with pipelines built on the Mexican side.
Cheap American natural gas is key to reducing Mexico's electricity costs, so its factories can better compete with Asia. Trump has warned U.S. manufacturers he'd penalize them for outsourcing production, including threatening automakers General Motors and Toyota with a tax if they continue to produce U.S.-sold vehicles in Mexico. Ford CEO Mark Fields announced on Jan. 3 he was canceling plans to build a $1.6 billion plant in Mexico, though the company will continue building its next-generation Focus at an existing facility there.

Along with supporting Trump, Warren donated $1.5 million to conservative groups during the election, according to the nonprofit Center for Responsive Politics. After Trump's victory, Warren said on a call with analysts: "My God, this is going to be refreshing."
Energy Transfer Partners agreed to sell itself in November to sister company Sunoco Logistics Partners for $21.3 billion. The group is building the Dakota Access Pipeline, a flashpoint in the wider battle over pipelines proposed across the U.S., which has drawn opposition from American Indians who say it would damage culturally significant sites. Protesters have camped out for months at the Standing Rock Indian Reservation in North Dakota in a bid to halt completion. Trump's transition team has said he supports construction of the pipeline and after his Jan. 20 inauguration plans to review a U.S. Army Corps of Engineers decision that stalled the project.
In recent weeks, dozens of Standing Rock protesters have started caravanning south to the West Texas desert in the hope of stopping the Comanche and Trans-Pecos pipelines. At least five encampments with dozens of protesters have already been set up along the border and near Big Bend National Park.
The border pipelines have drawn bitter opposition from Texas ranchers who lost land to construction under state rules that allow private companies to exercise the right of eminent domain, but they aren't eager to engage in or support civil disobedience. "When they see somebody chain themselves to a piece of equipment or a gate, it creates a credibility problem" for local landowners, says Coyne Gibson, a volunteer at the Big Bend Conservation Alliance, which has organized local opposition to the pipelines.
In tiny San Elizario, southeast of El Paso, the Comanche Trail Pipeline runs not far from the area's only high school. Construction begins around 5:30 every morning, waking residents, says Mayor Maya Sanchez. She says she shakes her head when she hears Trump talk about building a border wall or moving production out of Mexico, given his connections to the pipeline. "The fact is, in every person's life there's going to be moments of conflict that you have to resolve," she says. "This is one of those moments for Donald Trump."

—With Tim Loh and Matthew Monks
The bottom line: Trump backer Kelcy Warren and Mexican billionaire Carlos Slim are behind a project that will benefit Mexican manufacturing.
Before it's here, it's on the Bloomberg Terminal.
LEARN MORE