Gambler Wants Insider-Trading Case Tossed Over FBI Leaks
By
Agent tipped reporters about probe of gambler and golfer

Attorney said leaks were used to prop up failing probe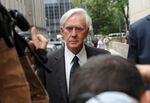 Las Vegas gambler Billy Walters played his hand on Friday, asking a judge to dismiss insider-trading charges against him after an FBI agent leaked details about the confidential probe to the press.
Walters said in a court filing that the FBI violated his rights by leaking to the press details of a confidential probe of his stock trading. The agency did so to breathe life into a flagging investigation, hoping to prod targets to incriminate themselves after a wiretap on Walters's phone failed to turn up evidence, said defense attorneys Barry Berke and Paul Schoeman.
Should the judge decide against dismissing the indictment, Walters asked that a hearing be held to investigate the leaks.
"But for this illegal investigatory scheme, Mr. Walters never would have been indicted," Berke said in a filing Friday in Manhattan federal court. The 2013 leaks "were intended to and did successfully revive a dormant investigation," he wrote.
The FBI is under increased scrutiny, including having come under fire over a probe into Hillary Clinton's e-mails. The Justice Department's internal watchdog has begun to scrutinize whether FBI Director James Comey properly handled the agency's investigation of the Democratic presidential candidate's use of a private e-mail server.
In the Walters case, the Justice Department last month began a criminal probe into the actions of a veteran FBI supervisor, David Chaves, who has admitted leaking information about the government's investigation to reporters at the Wall Street Journal and New York Times. U.S. District Judge P. Kevin Castel in Manhattan said at a hearing in December that he'd allow Walters to file a request to dismiss the charges because of the leaks.
Adrienne Senatore, a spokeswoman for the FBI's New York office, and Jim Margolin, a spokesman for Manhattan U.S. Attorney Preet Bharara, declined to comment on the filing. Prosecutors have previously said they were harmed by Chaves's unauthorized leaks. Sean Casey, a lawyer for Chaves, didn't immediately respond to voice-mail or e-mail messages seeking comment on Walters's request.
Insider Plot
Walters was indicted last year, accused of orchestrating an insider scheme that also entangled golfer Phil Mickelson and Dean Foods Co.'s former chairman Tom C. Davis. Walters is alleged to have made $43 million by trading on tips from Davis, who has pleaded guilty and is cooperating with prosecutors. 
The charges against Walters came two years after the newspapers first reported details of the government's confidential investigation. The articles said the Federal Bureau of Investigation, the U.S. Securities and Exchange Commission and Bharara were investigating suspiciously timed trades by billionaire investor Carl Icahn as well as trades in Dean Foods by Walters and Mickelson. Neither Icahn nor Mickelson were accused of wrongdoing. Mickelson agreed to pay back almost $1 million he earned trading on information he got from Walters.
After Castel ordered an inquiry, the government interviewed agents and prosecutors. The investigation revealed that Chaves first met Times reporters for dinner in April 2013 and told them about the investigation, which he believed was "dormant." Several months later, the agent told a Journal reporter about the probe, prosecutors wrote. The agent spoke several more times to reporters without the knowledge of his superiors, according to the memo. 
Delay Publication
In May 2014, after the Journal said it was preparing to publish a story, the FBI tried to persuade the newspaper to delay publication. When stories in both papers were imminent, prosecutors and the FBI immediately approached Mickelson and Davis to question them, according to the memo.
Prosecutors and agents are barred from leaking information about grand jury proceedings. In their filing Friday, Berke and Schoeman said the leaks eventually spurred Davis to plead guilty and cooperate. The lawyers urged the judge to dismiss the case "because of the outrageousness of the government's misconduct," including a "cover up" by the U.S. Attorney's office.
"The shield of grand jury secrecy was turned upside down, and misused instead as a sword in a systemic, deliberate, sustained and illegal campaign by the government to leak," said the lawyers, who complained that e-mails between prosecutors and FBI agents in 2014 discussing the pending news reports show that the Manhattan U.S. Attorney's office was aware of a government leak yet did nothing to investigate or stop it.
Berke said evidence that's been produced by the government ahead of Walters's trial indicates that when the news stories were published on May 30, 2014, "Davis immediately began to feel the heat being turned up around him, as no doubt was Special Supervisory Agent Chaves' intent."
 
He cited e-mails that have been produced by the government ahead of the trial. One friend forwarded one of the articles to Davis on May 30, 2014, writing, "Uh oh," which prompted Davis to reply, "Heard this was coming out...Bad news." A business acquaintance also forwarded the story, writing Davis in an e-mail, "Hope this is not correct," according to Berke. The lawyer contends the news reports prompted Davis to begin cooperating with the government. 
When he pleaded guilty last year, Davis admitted throwing a prepaid mobile phone he'd used in the scheme into a creek near his Dallas home after FBI agents questioned him two days before the stories were published, on May 28, 2014, according to a transcript of his plea. Davis lied repeatedly to the U.S from 2014 to 2015, including perjuring himself before the SEC, he told the court as part of his plea.
The case is U.S. v. Walters, 16-cr-338, U.S. District Court, Southern District of New York (Manhattan).
Before it's here, it's on the Bloomberg Terminal.
LEARN MORE