Erdogan Vows to Keep Turkish Troops in Cyprus as Talks Stall
by , , and
Hurdles remain over security guarantees and property rights

Negotiations will continue at technical level on Jan. 18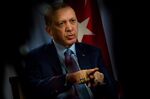 Turkish President Recep Tayyip Erdogan vowed to keep troops in Cyprus as future security arrangements turned into the biggest obstacle to a deal on reunifying the Mediterranean island after more than four decades.
Talks on a landmark accord will resume next week after top officials from Cyprus, Greece and Turkey failed to reach an agreement in Geneva. Hurdles also remain over property rights and a rotating presidency for a proposed federal state. Negotiations on Jan. 18 will be at a technical level to seek proposals to resolve the differences and comments from Turkey and Greece suggest there's plenty of work to do.
"We will be there forever," Erdogan said in Istanbul after Friday prayers. "Full withdrawal of Turkish soldiers is out of the question." He said Greece and the Greek Cypriots "are still under different expectations."
Speaking in Geneva after talks ended, Greek Foreign Minister Nikos Kotzias said Turkey needed to address the root of the Cyprus conflict. "A just solution to the Cyprus problem means above all eliminating the problems that brought it about, namely the occupation and presence of occupying troops," he said.
Cyprus has been divided since 1974, when Turkey invaded the north to protect the Turkish minority against a coup to unite the island with Greece. It went on to take more territory and thousands of people were displaced. An agreement to stitch Cyprus back together would draw a line under one of the world's biggest diplomatic challenges and the United Nations last night called it an "historic opportunity that should not be missed."
Crunch Time
The latest effort is seen as the closest to a breakthrough since a UN-imposed settlement was rejected by the island's voters in 2004. In the background now are the lure of riches from selling natural gas in the eastern Mediterranean and the security threat from turmoil in the Middle East. It would also remove a key barrier to Turkey joined the European Union.
"A failure to reach an agreement in Geneva should not be seen as the end of the road, however each failure makes the next attempt more difficult and negates the public opinion and trust for a political settlement," Alpaslan Ozerdem, co-director at the Centre for Trust, Peace and Social Relations at Coventry University in the U.K., said by e-mail on Friday. "Cyprus is one of the most challenging frozen conflicts of Europe. A re-unification deal would have serious ramifications on a number of political fronts and geographies."
Read More: a QuickTake Q&A on Why the World Is Watching
Officials from Greece, Turkey and the U.K., the three so-called guarantor nations, took part in the discussions in Geneva, where Greek- and Turkish-Cypriot officials had been meeting since Jan. 9. Chief among the disputes is the issue of how each community will be protected within the proposed federal state. Britain is present because it ruled Cyprus after taking in from the Ottomans in 1878 until its independence in 1960, and has military bases there.
Greek Prime Minister Alexis Tsipras said his country is willing to give up its protector status, and Greek Cypriots say that such powers wouldn't be needed in a unified Cyprus that's a member of the EU. Turkey, which maintains tens of thousands of troops on the island, aims to keep its guarantor role to safeguard Turkish Cypriots, a minority of about one-fifth of the island's population whose self-proclaimed state is only recognized by Ankara.
Staying Hopeful
The parties involved in Cyprus talks have the "best chance" to reunite Cyprus if they can overcome the complicated and emotional issue of security arrangements and "larger political developments in the region remind us that we should not lose time," Espen Barth Eide, the UN's Cyprus envoy, said on Friday.
Erdogan said Turkey objected to a proposal from the Greek side that a rotating presidency should be four terms for Greek Cypriots for every one term served by the Turkish Cypriots. He said a ratio of two-to-one would be "fair." Turkish Cypriot leader Mustafa Akinci said the rotating presidency "is a must for political equality" and he wouldn't sign a deal without one. Leaders will reconvene to review the findings of the working group as soon as possible.
"We are in constant dialogue," Cypriot President Nicos Anastasiades said Friday. "And as long as the dialogue continues there's hope."
Before it's here, it's on the Bloomberg Terminal.
LEARN MORE